Rise's ever-expanding partnership with Cretex companies continues to offer exciting work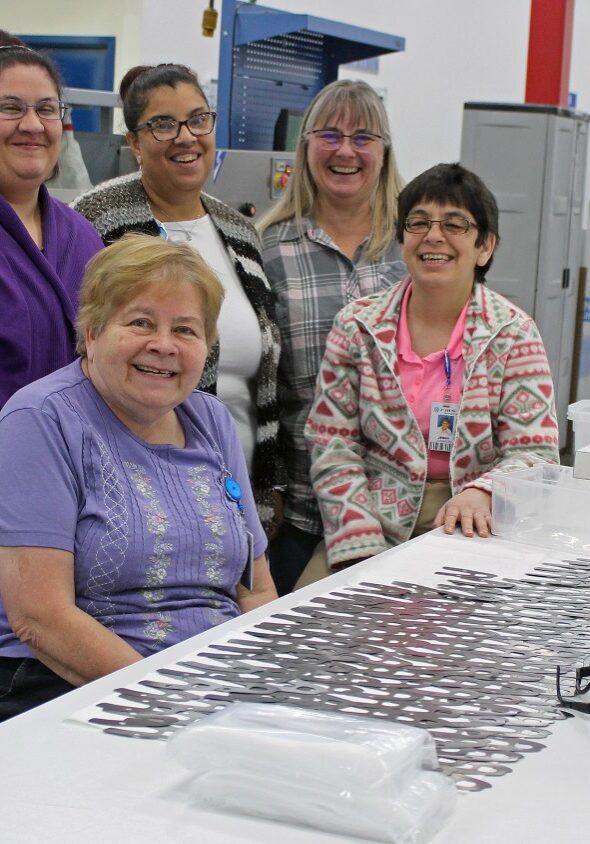 Within the 110,000-square-foot facility in Anoka, rms Surgical employees manufacture and assemble state-of-the-art orthopedic medical devices that are implanted in patients throughout the United States and across Europe. A leader in surgical instruments and sterilization delivery systems, rms Surgical is part of the Cretex family of medical companies, a privately owned enterprise with a proud 100-year history.
Rise has partnered with Cretex Companies since 2001 and in October 2016, started a work team at rms Surgical. Under the supervision of Rise Direct Support Professional Terrie Folkestad, and working in concert with rms's professional team of employees, four women from Rise work on upward of 75 different medical products.
Terrie collaborates with rms managers to determine which projects the team will work on. They perform a wide range of assembly, quality control, and packaging tasks, with efficiency and quality at the forefront of everything they do.
"Oftentimes, rms managers will stop by our work area to explain just how the products we're working on are used by medical and surgical professionals," said Terrie. "It's always very interesting and I think it gives us an appreciation for how important the quality of our work really is."
The women say they it's fun and rewarding to see some of the products they work on at rms like catheter pushers, brain surgery drills, and clavical bone-breakers in surgical scenes on TV medical shows such as Grey's Anatomy and The Good Doctor.
Karin Anderson, who has had a knee replacement, added: "We have to do a good job on these tools because they are used to help people who have surgeries like mine."
The work team agrees that they have all learned many new job skills at rms, but even more importantly, they feel they are valued members of the entire operation.
"At the end of the month, someone always stops by to thank us for helping them meet their production schedules and priorities for shipping," Terrie noted.
"Everyone here is fantastic," said Linda Hollman. "They appreciate what we do and give us compliments on our work. Quality is always the main thing we think about."
"The Rise team has been a great addition to our team and has allowed us to shift resources to other aspects of the operation," said Shane Hybben, operations manager. "When talking to the Rise team, they make me smile and laugh. They are fantastic and I truly enjoy working with them."
rms Surgical was recognized as a Rise Community Partner of the Year in 2017 for their collaborative working relationship and the many ways their company supports Rise's mission and people we serve.
rms managers have promoted our employment and labor services to other Cretex companies such as rsm Machining Corp. in Coon Rapids and Meier Tool & Engineering in Anoka, as well as other area businesses. These referrals have resulted in great employment opportunities for many people.
HR Specialist Amie Lindenfelser was one of a group of rsm employees who attended the Celebrate Rise Fundraising Gala again this year. "It was such a wonderful and heartwarming event to attend and a great way to support the men and women served by Rise."
Photo: Standing from left are Elena Lorentz, Linda Hollman, and DSP Terrie Folkestad. Sitting are Karin Anderson and Jenny Johnson.
This article appears in the December 2018 issue of the Rise Reporter.