Rise Team Member Spotlight: Tim Lynch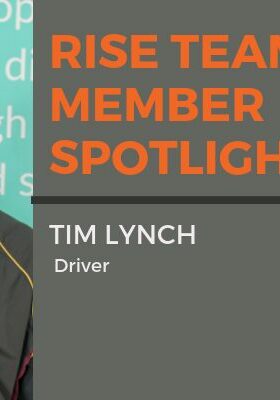 At Rise, one of the crucial parts of our day-to-day functions is transporting more than 1,000 people from home to their work locations safely and without fail. For more than ten years, Tim Lynch has been on our team of professional drivers who collectively drive more than 2.5 million miles annually.
Before coming to work at Rise, Tim had a range of different jobs, but he always enjoyed positions which allowed him to work with other people. After a close friend referred him to Rise, he was hired as a substitute driver working on call; not long after, he was promoted to a full-time position.
For Tim, a typical day on the job follows a cycle. He drives his route every morning, picking people up at their homes and dropping them off at Rise locations or community work sites. Once the afternoon arrives, he reverses the same route from the morning, making sure everyone gets home safe and sound.
When you talk to Tim, the first thing you'll notice is his positivity. He's happy to talk about his work and has a lot to say about why he loves being a part of Rise.
"I love the positive atmosphere," Tim says.  "Every day I get to work with great people, and I get the chance to start their day with a smiling face." He loves driving and counts himself lucky to have a fulfilling career and gets to be outside every day, even in the challenging Minnesota winters.
Between his work at Rise and his time away from work, Tim is a busy guy. He's ready to go the extra mile at work to help his coworkers when they need it. If a job needs doing, he's happy to jump in and get it done. Outside of work, Tim likes to work on cars, watch his favorite Minnesota sports teams, and give back with his free time by volunteering with his church.
When Tim speaks about his work with Rise, a theme emerges. He has a passion for making sure other people have a good day, every day. He dedicates his time to working with other people and making sure that everyone can succeed, whether it means driving them to and from work, or lending a hand when coworkers need assistance.
At Rise, we're always looking for people with the same passion and dedication as Tim. Take a look at our current openings if you're interested in being a part of our great team.