Rise Team Member Spotlight: Sue Featherly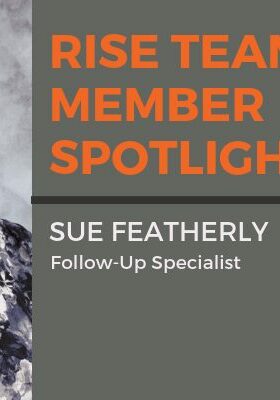 Albert Einstein once said, "Only a life lived in the service of others is worth living." By that notion, Sue Featherly lives a very special life, as she spends a tremendous amount of time improving the lives of others.
As a follow-up specialist at Rise, Sue provides long-term support to those working in competitive jobs in the community. When an employee starts a new job, Sue is there to assist with the transition and to get acclimated to their new role. Once they've gotten comfortable and are feeling up-to-speed, Sue checks in with each employee a few times a month to ensure everything is going smoothly.
Sue also builds strong relationships with the supervisors at the companies which hire Rise employees. By working closely with the businesses, Sue helps alleviate any concerns they might have as well as provides the employees she mentors additional support. Forging a working relationship with the supervisors also enables Sue to identify the potential for additional roles that the business might have for other people Rise serves.
"I like what Rise stands for; our mission is to 'unlock potential and opens doors to success' for people with disabilities," Sue says. She is happiest to see the people she serves achieve as much independence as possible in both their professional and personal lives.
"For instance," said Sue, "I have a person I am serving who went from working at a supported employment work site and living at home to having a competitive job in a community business, working 32 hours a week, and moving into her own apartment."
Another example that warms Sue's heart is how one of the employees she supports went from working a job at a community restaurant cleaning the lobby two days a week to cashiering four days a week in the span of only a year. The next goal Sue and he are working on together is for him to be trained in helping out with making sandwiches.
Outside of Rise, Sue is the mother of two adult children and a grandmother of four grandchildren. Additionally, she works two nights a week providing respite care for a young woman who has intellectual disabilities. Sue says the pair has a blast together going to parks to listen to live music, attending movies, and trying new restaurants.
Sue belongs to a walking challenge group that is partnered with the Make-A-Wish Foundation. Last year, she walked an eye-popping (or knee-popping) 3,000 miles! She is planning to walk her second marathon next month.
Sue provides all this service to others by relying on her adaptability. Although she tries to plan out her schedule weekly, she inevitably gets a call from someone she serves or an employer with a request for her expertise. Her flexibility does not go unnoticed as Sue's peers nominated her as Champion of the Month in July. Her co-workers cited her ability to support them and always make time for their questions to be answered.
In February 2019, Sue will celebrate 30 years working at Rise. We celebrate her commitment to community service and appreciate her tireless efforts to improve lives.
Rise is excited to partner with fantastic community members, like Sue, as a part of our recruiting and placement programs.
Are you looking for an exciting new job opportunity? Check out Rise's open careers today!