Rise Team Member Spotlight: Ross Wangensteen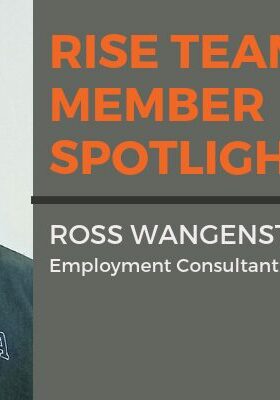 When you talk to Ross Wangensteen about his job, the abundance of passion he has for his work comes across immediately. Ross is an employment consultant for Rise, serving on the community support and deployment team. His primary objective is to assist people in finding employment, though there's a wide range of ways he goes about doing so.
His job begins by providing job coaching and training to the people Rise serves. Ross helps them create resumes, craft cover letters, apply for jobs, perform mock job interviews, help them pick out an outfit for an interview—if it helps the person served to get a job offer, Ross is there to provide support.
Throughout this process, he learns about the types of jobs that best fit their skill set. Once he has an idea for the kind of work that they would be excited about, he heads off into the community to find an employer.
A Day in Ross's Shoes
Ross starts his day by arriving at the office early to tackle some busy work. Emails, finishing up documentation from the previous day, calling to confirm the various meetings he has on his schedule. His mornings are quiet and rarely feature meetings, which enables him to be productive with tasks such as these.
Around midday, Ross sets off to meet with employers. For each employer he interacts with, Ross has a specific person in mind for the role. Since each job is personalized to the person served, the types of roles can vary greatly. Some days he's meeting with big-box retailers, on others he's working with local auto shops.
When Ross meets with employers, he's both showcasing the value that the person served can bring to their company as well as educating people about their abilities.
"Unfortunately, there are a lot of stigmas about the community we serve," Ross says. "Being able to provide education that alters those perceptions is a rewarding part of my job." In some situations, Ross will bring the person served with him to meet the employer, which helps shift the way people think.
After his meetings with employers have ended, he meets with the persons served and provides them with job training.  Working with the persons served is huge draw to the job for Ross.
"Seeing a person gain employment, and therefore gain independence, is amazing," Ross says. "Being able to help them achieve their goals is my favorite part of the job."
Why Ross Works for Rise
Before joining Rise, Ross had been working with a few different organizations who serve the developmentally disabled community in the Twin Cities area.  Wherever he went, over and over again he kept hearing rave reviews about Rise. Last March when he saw that Rise was hiring for a position in his field, he jumped at the opportunity.
"I love working for Rise because they're a cornerstone in the field," Ross says. "Their mission to serve and foster the life dreams and goals of the people we serve perfectly aligns with my passion and values."
"I'm so thankful and grateful to work at a company where I'm surrounded by like-minded people," Ross says. "Everyone at Rise is committed to helping people improve their lives."
A Little About Ross
Ross was born and raised in Saint Paul. When Ross is not at work, he's usually busy working on remodeling his New Brighton home with his wife. There's plenty of work yet to be done, but he says they're getting closer. Ross also loves to spend his free time outdoors hunting and fishing.
Join Ross and the Rise Organization
Rise is excited to have dedicated people like Ross on our team helping us carry out our important mission in the community. Are you looking for an exciting new career opportunity? We're always looking to add outstanding people to our team. Learn about some of the other amazing people on the Rise team, and check out Rise's open job positions today!