Rise Team Member Spotlight: Paul Kuhlmann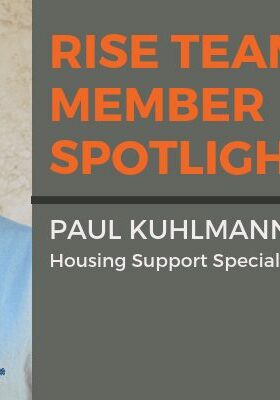 Paul Kuhlman is a housing support specialist with Rise's Employment Innovations and Rapid Rehousing programs serving people in Central Minnesota. In this role, Paul serves as a vital advocate for people who have mental health issues by assisting them find affordable housing. He then helps them make a smooth transition into their new home by providing valuable training on independent living skills, such as budgeting, hygiene, shopping, meal planning, etc.
What does a day on the job look like for Paul?
Covering a large, five-county area, Paul spends a good amount of time driving to different communities meeting one-on-one with the people he supports. Throughout this vast area, Paul actively builds relationships with landlords and housing managers to help identify potential housing opportunities. Once Paul assists people to get moved in and comfortable in their new home, he maintains his relationship with the landlords to ensure that everything is going smoothly, serving as a vital liaison for everyone involved.
Another element of Paul's job is working with people to manage their budgets to help ensure that critical items such as security deposits, first month's rent, moving expenses, and household necessities are covered.
Paul got his start with Rise 10 years ago after previously working for another organization. "Rise offered me a tremendous opportunity," Paul says. "Their values and mission made this job a perfect fit for me."
Outside of work, Paul is a passionate hiker. He lives in Saint Croix Falls, Wisconsin, and loves how many hiking opportunities there are near him. He volunteers for the Ice Age Trail, a beautiful hiking path that stretches more than a thousand miles.
"Since day one, I've enjoyed the people I get to work with at Rise," Paul says. "They're simply exceptional. Everyone on the Rise team is terrific at what they do, and that starts with my excellent supervisors, Amy Carter and Mike Harper."
Rise is excited to have great people like Paul on our team, working hard to help us carry out our important mission in the community. Contact us today to learn more about our programs and our team.
Are you looking for an exciting new career opportunity? Check out Rise's open job positions today!