Rise Team Member Spotlight: Patty Thurk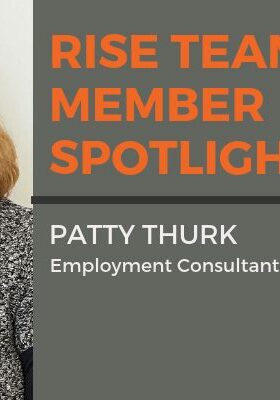 For Patty Thurk, preparation is everything.
As an employment consultant at Rise New Richmond, Patty's primary goal is to find employment opportunities for people. Accomplishing that goal calls for Patty to take on a wide variety of tasks—ranging from employment coaching to networking with local business leaders to find new opportunities. Where does her process start?
"My job starts by coming up with job descriptions that fit specific people," Patty says. "Some people can sing. Some people are artistic. Me? I'm good at creating job descriptions for people."
Patty's secret to creating fantastic job descriptions is her preparation. She commits plenty of time to each person to get an understanding of the type of work that fits with their goals, skill set, and experience.
During this stage, she also provides people with valuable employment coaching to help them both prepare their resumes and train the skills they'll need on the job. Once Patty has created a custom job description for the person she's working with, she sets off to find an employer.
"When I talk to an employer, I always arrived organized by trying to learn as much about them as possible," Patty says. When she meets with employers, Patty will educate them on the value of hiring the people she serves, as well as informing them of the countless success stories she's observed over the years.
Patty's role doesn't end when she finds the perfect employer. She continues to help the people served throughout their employment journey by providing continued support and job coaching. "Even if someone has been in a job for two years," Patty says. "They can always improve."
While Patty is always looking to accomplish the same over-arching goal of finding work for people, each time is unique, which according to her is one of the best perks of the job.
"I love all of the work I get to do, but the variety of work is probably my favorite part," Patty says. "If I did one thing each and every day, I'd be bored to tears. But in my job, no two days are the same for me as no two people are the same. It keeps things interesting."
Patty grew up in Bloomington, and today lives in Stillwater. When she's not working, she loves doing Yoga and traveling with her husband. They've traveled to an impressive 46 states and are excited to get to all 50—especially Alaska. Patty greatly enjoys spending time with her family and her four-year-old grandson. She also is very involved in her church where she teaches bible study.
Rise is excited to have great people like Patty on our team, working hard to help us carry out our important mission in the community. Are you looking for an exciting new career opportunity? Check out Rise's open job positions today!