Rise Team Member Spotlight: Milcart Robert-Clerge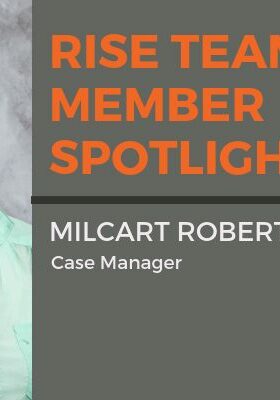 Have you ever met one of those people who seem to radiate light throughout a room? No matter how many people are there, when that person enters, each pair of eyes draws toward that person and everyone immediately has a calming sense of joy. Milcart Robert-Clerge is one of those special people.
Milcart employs her unique blend of kindness, reliability, and flexibility to excel in her work with Rise. Developing positive relationships is a significant part of Milcart's job at Rise and she is exceptional at building positive relationships with people.
Milcart's job calls on her to visit various sites throughout the business community and work with a large number of people. "Meeting new people is fun for me," Milcart says. And the people whom Milcart meets are equally enthusiastic about getting to know her. She is just one of those people who leaves an immediate impact.
She comes into work fresh, energetic, and exhibits eagerness to learn every day. She is always willing to go the extra mile to help others, and she never hesitates to ask for help herself. Milcart has the ability to shed light on the positives in all situations and strives to create a better work environment for everyone. She models passion and presence when spending time with the individuals she serves, bringing joy to everyone she meets.
Those who work with her praise Milcart's keen ability to support so many people who work in a wide range of businesses in the Twin Cities. Her associates also value Milcart's uplifting attitude and happy demeanor. The positive affect that Milcart has on people contributed to her being presented with a 2017 Champion of the Mission award at last year's Celebrate Rise Fundraising Gala.
With 27 years of experience supporting people with disabilities and 18 years working with Rise, you'd be hard-pressed to discover someone more qualified than Milcart. After serving as a "super sub" for many years, Milcart recently transitioned to become a case manager. She's excited about the new position and eager to learn as she grows in this important role.
When she's not providing top-notch support at work, Milcart loves spending her time exercising. "I exercise every single day," Milcart says. She also loves cooking—especially her native Haitian cuisine.
If you spend a few minutes around Milcart, you'll find that her happiness and good nature will quickly rub off on you. "I love to be happy," Milcart says. "When I'm in a fun environment, I'm always smiling and it's contagious."
What's her favorite part of her work at Rise? "Interacting with the people we serve is the best part of my job," she says. Milcart loves her work and being a part of the Rise organization. "I'm grateful to be working for Rise. Without Rise, there would be a lot of things that I wouldn't be able to do."
Rise is excited to employ people who are interested in making a difference. Check out our open opportunities for your next career move!