Rise Team Member Spotlight: Maurice Linston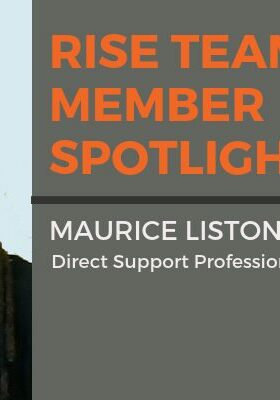 Passion is a driving force in Maurice Linston's life. From his family upbringing, playing football, and serving in the U.S. Army Reserve, he learned to channel his passions into his daily. As a direct support professional at Rise, Maurice carries out his enthusiastic outlook on life into his important work assisting people with physical and intellectual challenges.
Maurice's typical workday features a broad range of tasks and interacting with a group of amazing people. He starts by reviewing the schedule to see with whom he will be working, then he drives the van to pick up people and bring them to Rise's Bloomington facility. Each person has different needs, so he works with their parents or guardians to ensure they have everything they need for their day—medications, lunch, materials, etc. Once they arrive at Rise, Maurice assists them in preparing for their day.
One of the many things that Maurice loves about his job is that there is a coaching element to it. Just as a coach helps each player achieve success, Maurice supports each person to reach his or her daily goals. These may include improving their reading and writing, learning American Sign Language (ASL), and refining their social and communication skills. Additionally, Maurice is trained to act quickly and follow person-specific protocols in the event of a medical emergency.
"Working at Rise with people who require personal care and then care about you in return is deeply rewarding," Maurice says. "Making a difference in their lives is more rewarding than a dollar."
Some of the best days at work for Maurice are those which include community outings. Occasionally the Rise team will take people out for a day of social fun by visiting places like the Mall of America or Pauly's Pond Park in Bloomington. But the outing that Maurice is most looking forward to is visiting the training camp of the Minnesota Vikings. These outings provide the clients with an unforgettable day of fun, as well as an opportunity to hone their social skills. "It's hard not to feel happy when you see how much they enjoy going out different places," Maurice says.
What's Maurice up to when he's not at work? Chances are he's watching sports. A self-described sports junkie, he'll watch almost anything in the world of sports. Football, basketball, hockey, boxing — he loves it all. Maurice keeps himself busy as a father of three, ages 18, 11, and 9. He loves cooking for his family and spending quality time with them. When Maurice does have some time to himself, he likes to work on his 1975 Caprice Convertible.
Maurice has been working at Rise for three years. He loves his work, but he also especially loves the Rise organization. "At Rise, everyone addresses me personally," Maurice says. "Rise is a like a second family."
"I love my work and I do a great job," Maurice says, "But I'm only able to do my job well because of the amazing coworkers I have. They all help me so much and I can't thank them enough."
Rise is excited to have great people like Maurice on our team, working hard to help us carry out our important mission in the community. Contact us today to learn more about our programs and our team.
Are you looking for an exciting new career opportunity? Check out Rise's open job positions today!