Rise Team Member Spotlight: Katie Whiteford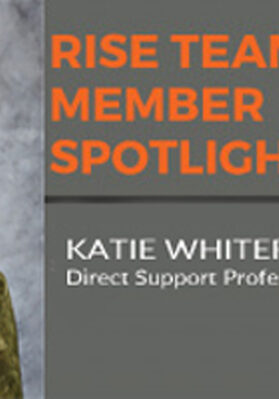 Dedicated, calm and caring are a few words that describe Rise Direct Support  Professional Katie Whiteford — traits that the 18-year veteran has regularly applied to support an average of four to five people in the Data Ability program. Katie has had the unique privilege of working with the same group of data entry clerks her entire Rise career and describes her relationships with them as mutually beneficial.
"I've chosen to stay in my DSP role to maintain a direct connection with the people served," said Katie. "The relationships I have with those I support is symbiotic."
Katie's day-to-day responsibilities include greeting people and supporting them throughout their day — getting settled in to work, answering questions, and solving computer and technical issues as well as attending to their personal care needs.
Her team works on a wide range of work projects for Rise business partners, Rise's Transportation Department, and other Rise offices. Each computer, both its hardware and software, are customized to meet the skills and abilities of each data entry clerk, so Katie needs to be up on and competent in adaptive computer technology and support.
Staying in touch with each person's support team, including family members, social workers, and residential providers, is also an important part of her position. Over the years, they have all come to trust Katie and seek her input to help ensure each person's needs are being met
"Hearing a family member say to me, 'Could you give me your opinion? I trust you.' means more than any amount of compensation," adds Katie.
It was these types of values that provided Katie the clarity needed to transition from her professional baking and catering career to human services. After supervising a person with a disability in her previous field, work and life took on more meaning. She quickly made the switch to residential care before coming to Rise in 2001.
"I love my job," says Katie. "As a Rise employee, I feel valued, respected, heard, and comfortable."
Rise is delighted to see employees like Katie flourish while working to serve people with disabilities.