Rise Team Member Spotlight: Habie Jalloh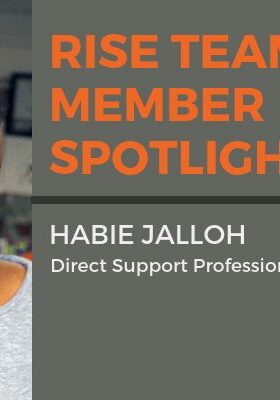 As a direct support professional at Rise's Adult Day Program in Fridley, Habie Jalloh arrives to work each and every day with a wide smile on her face with the goal of always going the extra mile. Talk to anyone that interreacts with Habie at Rise, and you hear the same thing: Habie has an infectious and optimistic personality that makes being around her an absolute joy.
In her role, Habie takes on a long list of tasks, which keeps every day new and fresh. From lending a hand to help make lunches to aiding others in achieving their goals, the one consistent element of all the different tasks Habie performs is that she's always supporting other people.
"My favorite part of my job is getting to know the people Rise serves," Habie says. "Keeping them company, listening to them, helping them with their daily needs—it makes every day at work wonderful."
Habie's strong work ethic and kind spirit led her to be named the Rise Champion in September 2018. She contributes her success in her job to her commitment to always try to be learning to be a better communicator, as it's vital when helping people.
Why does she like working for Rise? "Rise is a great company to work for," Habie says, "They treat their employees fairly and with respect." She has worked at Rise for four years.
Habie grew up in Sierra Leone, coming to America when she was 17 through the refugee program. She is the proud mother of two daughters, aged 14 and 12. When she's not working, Habie loves spending time with her girls, as well as reading books, going to the store, and hanging out with friends and family.
Rise is thrilled to have people like Habie helping us carry out our mission.
Are you looking for an exciting new job opportunity? Check out our open careers today.