Rise Team Member Spotlight: Christel Pederson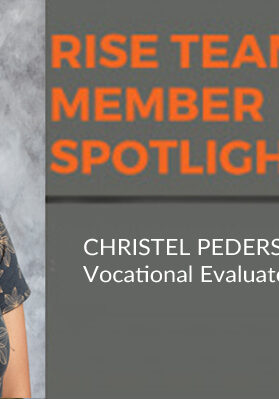 Christel Pederson has had a strong desire to serve people and her community since childhood. In her role as a vocational evaluator at Rise, Christel does both as she assists individuals determine what kind of career path they might successfully take.
With a degree in community social services, this Minnesota transplant began working for Rise as a community work site supervisor about five years ago. She then took a job placement specialist position before transitioning into her current role in 2017. Having had three different job titles in five years has enabled Christel to continually expand her skills, interests, and responsibilities. "I love it here!" she says.
One of three Rise vocational evaluators, Christel observes people in their initial phase at Rise. Each evaluation takes place in a community business doing real work and lasts about four hours a day for 20 days. Once the observation phase is complete, Christel compiles a 12- to 15-page report which assesses the person's skills and abilities in many different areas, including the ability to concentrate on the job at hand, attendance, strengths, necessary accommodations, special interests, and the like. Her report also includes an employment recommendation for moving forward.
When asked what the best part of her job is, Christel says, "It's good to hear when someone is doing well at work. Knowing that I had a hand in building their confidence to achieve that next step is very rewarding. And being thanked by the loved ones of a person served is especially touching.
"Rise is an exciting place because it's always changing and growing," she added. "They put people first, and I'm always provided with the tools necessary to succeed."
Outside of her career, Christel also succeeds in the kitchen with her cooking and baking hobby. And when she's not in the kitchen, the California native can be found exploring the Land of 10,000 Lakes.
Rise is proud to employ someone with such versatile and compassionate talents like Christel.