Rise Team Member Spotlight: Becca Benke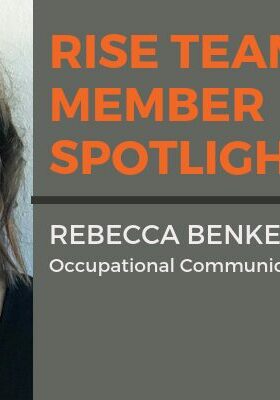 As the lone Rise team member working in the Moorhead area, Becca Benke has her hands full. She works with Rise's Minnesota Employment Center (MEC) as an occupational communication specialist to support people who are Deaf, Deafblind, and hard of hearing overcome employment barriers. Additionally, she provides job coaching and support to high school students who are preparing to enter the workforce.
Becca has worked with Rise for a little over two years. "Rise's mission statement and values closely aligned with mine," she says. "The more I learned about Rise, the more I knew I wanted to work there."
In the beginning, a significant portion of Becca's job was spreading the word about Rise MEC Moorhead and conducting community outreach with local employers. Now that the Rise is more well known in the community, Becca keeps busy providing support to the people Rise serves.
A day for Becca starts with her tackling paperwork, emails, and preparing for meetings. Then she meets with people she supports to discuss their employment options and career plans. She assists them to assemble their resumes, draft cover letters, apply for jobs, and prepare for interviews.
Once she has finished her one-on-one meetings, Becca heads off into the community to meet with employers to discuss their employment opportunities and try to find the perfect match for a specific candidate's skill-set and experience.
Becca also follows up with people who are currently employed. When meeting with them, she ensures that everything is going well on the job, and provides support if there are issues with communication, accommodations, or other work-related issues.
What does Becca enjoy most about her job?
"I love getting to know each person individually," Becca says. "Everyone is unique with a different story and background. I especially enjoy the moments when people I work with get a new job, a well-deserved raise, or promotion—it's such an amazing feeling to know I have assisted someone on their career path."
Becca also appreciates the collaboration and communication she receives from her fellow Rise team members. "Even though I'm by myself in Moorhead, I'm always in communication with the other Rise team members," Becca says. "Rise is a very close-knit and collaborative company, which I really enjoy."
Becca grew up on a dairy farm in Dent, Minnesota. When she's not working, she loves spending time outdoors. Some of her hobbies include hiking, camping, and traveling. A recent and memorable experience included traveling to the Sedona Hills in Arizona, where she spent time hiking the scenic trails.
"Rise is a great company," Becca says. "They provide services that enrich the communities that they are in."
Rise is proud to have passionate individuals like Becca helping us carry out our important mission.
Are you looking for an exciting new job opportunity? Check out our open careers today.