Rise Team Member Spotlight: Amanda Jarnagin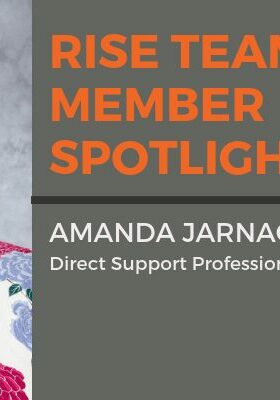 When you cross Amanda Jarnagin's path, expect to be greeted with an enormous smile that matches her heart. She loves to start her day with a good laugh before rolling up her sleeves to begin her work.
Amanda is a direct support professional in a program that works with Deaf and DeafBlind people who also have intellectual and developmental disabilities. Amanda is a direct support professional (DSP), so she spends her days supporting people to reach their goals related to employment and community integration. Amanda enjoys the variety involved in her job and uses customized training methods for each person to best match their skills and abilities on the wide range of subcontracts performed at one of Rise's production facilities. Amanda also accompanies groups of people out to community work sites.
Amanda first became aware of Rise about nine years ago when a friend told her about the work they do and was immediately interested in working there. She loves being able to share in the success of the people with whom she works.
Outside of work, Amanda is surrounded by her lovely family. Amanda and her husband are parents to a 7-year-old daughter and a 6-month-old son. Her daughter is involved in many activities and Amanda loves chauffeuring her to all the action. Every summer they travel to state parks and camp together as a family. They are the proud owners of a Vintage 1966 Mallard camper trailer and take it out as much as possible.
"I love to spend time with my babies and my husband," Amanda says. "It is the best way to spend my free time."
Amanda is also a small business owner of Silent Beauty Flowers and has turned her love of floral designing for weddings and events into much more than a hobby. Right now, she has set up shop in the laundry room.
"My ultimate goal is to own a floral design shop in Eagan, I love it," she says.
Being Deaf herself, Amanda has a strong passion for promoting everyone to learn American Sign Language (ASL) from Rise's internal website, an app, or by taking classes. Amanda is even featured in many of the ASL training videos that Rise offers to employees. She expressed how much it means to the Deaf community. "Everyone loves to see you use sign language."
Rise would love to have more great people like Amanda join our team as direct support professionals, employment consultants, drivers, and administrative team members. Are you looking for an exciting new job opportunity? Check out our career opportunities today.