Rise Oakdale team provides HIPERFIRE with dependable, high-quality workmanship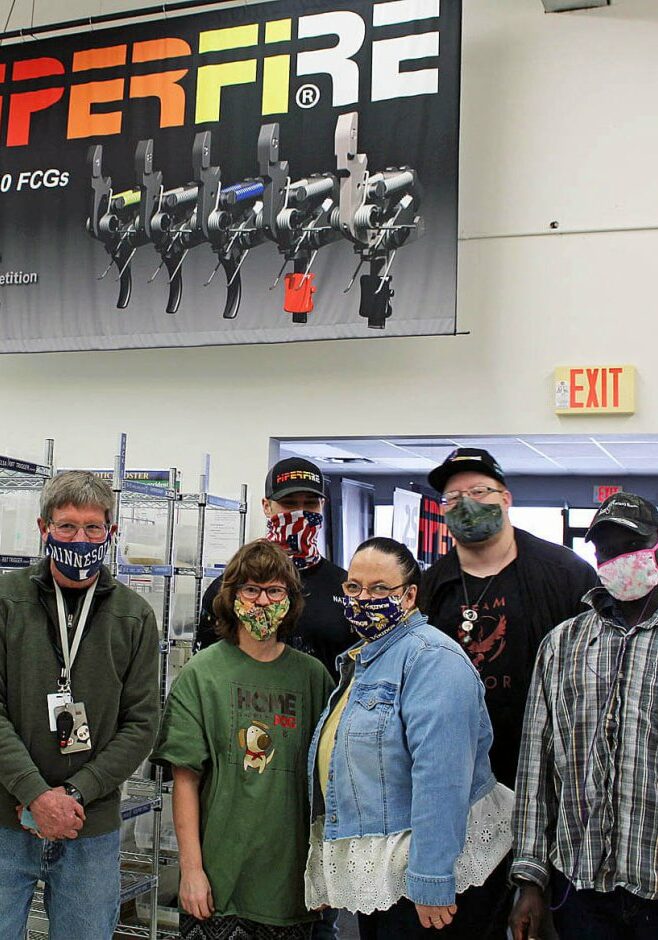 Adirirow Ojulu may be a man of few words, but he knows how to pick the right radio station to keep his team members from Rise Oakdale humming while they work at HIPERFIRE in Vadnais Heights. Today it's country music which lifts everyone spirits on this bitter cold Minnesota winter day.
With Employment Specialist Bob Kenney supervising, the team of four daily kits about 300 component packages and assembles triggers for high-end firearms used worldwide by competitive shooters, hunters, law enforcement, and the U.S. military.
Co-owner and vice president of operations, Nate Rinehart, also sends subassembly and packaging projects to Rise Oakdale's production facility. Since 2015, HIPERFIRE has relied soley on Rise workers to complement their production demands
The Rise team consists of six people who rotate working at HIPERFIRE so there are always four people on site; Tom Ammerman works on HIPERFIRE projects at Rose Oakdale.
"As a small business, I  value the work Rise employees do for us," said  Nate. "I set up the process to follow and Bob manages the team. There are at least 26 assembly projects which require keen attention to detail. Our company's reputation is directly related to the work Rise completes because that is what our customers receive.
The Rise team is enthusiastic about the work they do and support each other by working together like a 'well-0iled machine.'
"Not only are their quality and production rates outstanding, but Rise is flexible with staffing so we can easily expand or contract the number of workers to meet our production needs. They are a perfect fit for our company. Everyone, from management to the workers, are professional and committed to helping us achieve our goals. They are an extension of our company."
Nate and his partners are proud that 100 percent of the parts they use in their products are made in the U.S., and about 90 percent are manufactured right here in Minnesota.
"HIPERFIRE is committed to supporting our local community, hence our partnership with Rise," Nate added.
"It's always a pleasure working with HIPERFIRE, "said Program Supervisor Nicole Burdick. "They have been amazing working with us through the pandemic, ensuring that everyone's needs are met and people can work safely."
Proud of their important role, the Rise workers enjoy holiday parties, pizza lunches, and other expressions of appreciation from Nate and the HIPERFIRE team.
Shown here are from left: DSP Bob Kenney, Hannah, Jennifer Morgan, and Adirirow Ojulu. In the back are Co-Owner Nate Rinehart and Charlie Rea. Not pictured are Maria Jungman and Tom Ammerman.
This article appears in the March 2021 issue of the Rise Reporter.