Volunteer Katie Dennis enjoys helping people with fun, creative art projects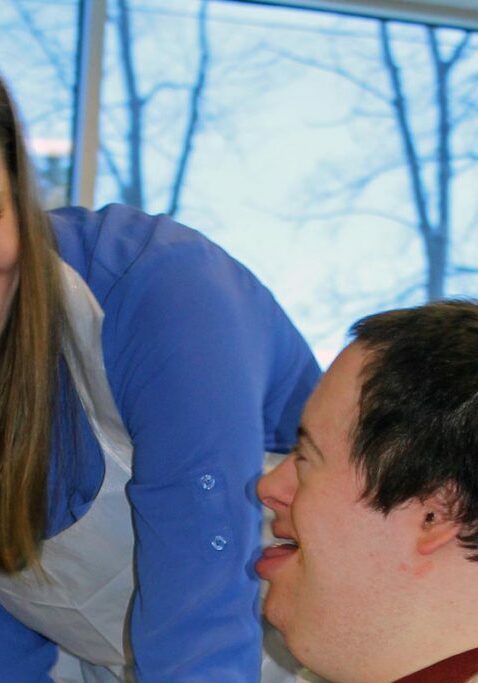 Every other Monday at Rise's Creative Partnerships South facility in Bloomington is extra special for the men and women who participate in Art Speaks because Volunteer Katie Dennis is on hand to assist them with their work.
Katie is a senior financial analyst for Allianz Life in Golden Valley, responsible for project management and strategic financial planning. Helping people with fun and creative art projects for an hour over lunchtime is quite a change from her normal Monday workdays.
I'm not really an artist, but I can be artistic for fun," Katie said, protected by a plastic apron as she assisted Steve, Larry, Greg (shown here), and others with their spatter-paint project. "What I really love the most is working one-on-one with the people at Partnerships and getting to know each person individually."
Katie had been looking for a volunteer position that was something new and fun that she could do on a regular, but flexible basis — and "didn't involve sitting in front of a computer!" Her online searches led her to Rise's website. She and a friend first volunteered to help a Rise holiday party in December 2016; Katie really enjoyed that experience and decided to check out other opportunities with Rise. The Art Speaks program piqued her interest.
"Katie is invaluable to us," said Rise's Art Therapist Stacy Gross. "She's formed meaningful connections with people and everyone looks forward to her coming. I appreciate her help – and the artists really enjoy having her here."
"I didn't know what to expect at first," Katie admitted. "But working with the Art Speaks program has turned out to be even more fun than I could have imagined. I have a good time with everyone and Stacy is so creative."
Allianz supports its employees' volunteer activities and offers them eight hours paid time off a year to volunteer. Katie has done several other volunteer projects with her Allianz co-workers such as raking leaves for seniors in the fall and working with students at the Junior Achievement Finance Park. She uses her lunch break time to work with Rise.
"Overall, volunteering with Art Speaks has exceeded my expectations," said Katie. "The people and the projects have been amazing. I really look forward to my Monday sessions with them."
In addition, Katie plans to put her professional business skills to work by conducting mock interviews for Rise job-seekers to help prepare them for the real thing.
"Katie brings such wonderful enthusiasm and energy to everything she does," said Volunteer Coordinator Zoe Leonard-Monrad. "We appreciate her time and her talents."
"Volunteering with Rise and building a significant connection to the people have given me a new perspective," Katie said. "You can always learn something new from each experience. Since volunteering with Rise, I've been much more into seeking out other opportunities where I can volunteer or participate or donate to causes I care about.
"Everyone has something to give," she added. "You can make an impact not only on the lives of others, but on your own. A community is built on the work people do there — if you want a good community, do good work, get involved!"
If you'd like to learn more about current volunteer opportunities and how you might get involved, please go to our volunteer page or contact Volunteer Coordinator Zoe Leonard-Monrad at 763-792-2454.