SPECIAL GRANT ENABLES RISE TO ADDRESS NEEDS OF PEOPLE WHO HAVE A FETAL ALCOHOL SPECTRUM DISORDER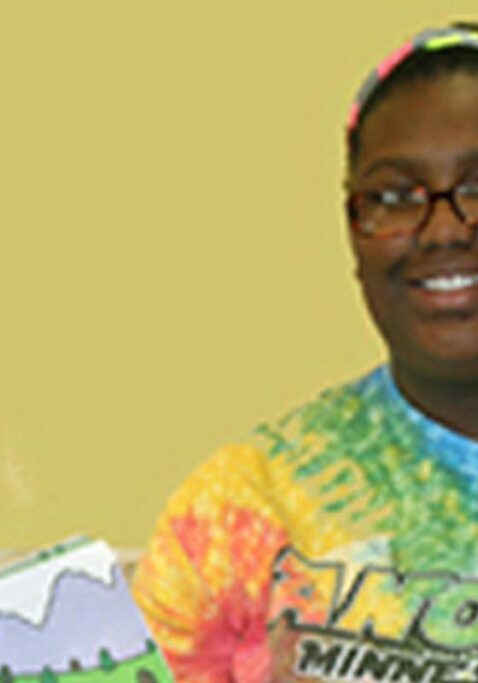 Posted on Dec 09, 2014
Balancing the demands of two part-time jobs while finishing up your last year in high school can be a real challenge. But Caitlyn Bosley finds that when you enjoy both working and school, it makes it easier.
Having a Fetal Alcohol Spectrum Disorder (FASD) can also be challenging to one's job success. But with support from Rise staff, Caitlyn is working successfully at Arby's in Coon Rapids and at the Minnesota Renaissance School in Anoka as an on-call substitute teacher's aide.
This summer Rise received funding from the Minnesota Organization on Fetal Alcohol Syndrome (MOFAS) for two years to offer people who have FASD in career planning and job placement services. Caitlyn is one of the first people to participate in this specialized job placement program.
Caitlyn's mom, Cindy, had been active for years with MOFAS since adopting three daughters each of whom has FASD. When she learned about the new program, Cindy was excited about the possibility that Caitlyn and her sister Kylee could work successfully in the community with the appropriate supports offered by Rise's employment staff.
Jessica Robey, a Rise employment consultant, met weekly with Caitlyn to assist her in updating her resume, putting together a career plan, and searching for appropriate jobs she was interested in. Caitlyn applied for many different kinds of jobs in the Anoka area, but not having her own transportation further complicated her job search.
"I love working at the Renaissance School because I get to help the kids with fun things like crafts, recess, lunch, and other activities," said Caitlyn. "They are toddlers to pre-Kindergarten so they're busy. But I have experience being with feisty kids!" She volunteers with her sister Chloe's Girl Scout troop and had also worked two summers at a YMCA camp with school-aged kids.
At Arby's, Caitlyn is trained in a variety of positions, including food prep, cashiering, and dining room attendant so that she can work wherever they need her.
"I want my daughters to be more independent, but I know the struggles they have and that they need specific supports," said Cindy. "I want them to have self-confidence and be successful. Having a good job is a great first step in their independence."
Jessica also keeps in touch with Cindy so she, too, can provide Caitlyn with the employment supports she needs. "For instance, counting back change at Arby's was hard for Caitlyn so we practiced that a lot at home. She also processes information slowly – it's not that she's not trying hard, but it may take a while to learn a new task. Thanks to Jessica, employers understand that."
"Jessica was a great advocate for Caitlyn, especially when she was interviewing. She had trouble opening up about herself with a stranger; Jessica really was fantastic in getting her through those."
"I'm really impressed by how hard Caitlyn has applied herself in the job search and how dedicated she is to each of her jobs," said Jessica who also went with Caitlyn to her job orientations and training sessions, job coached her on the cash register, and helped her with paperwork. "I enjoy being part of her continued success."
To be eligible for employment services under this MOFAS grant, you must be at least 18 years of age, live in Hennepin or Anoka Counties, and have a diagnosis of FASD (or display FASD indicators). For more information, contact Anne Mornes at 612-706-2517; email: amornes@rise.org. Check out MOFAS at www.mofas.org.
This article appears in the December 2014 issue of the Rise Reporter.