RISE WORKERS MEET AGGRESSIVE INDUSTRIES' QUALITY, ISO STANDARDS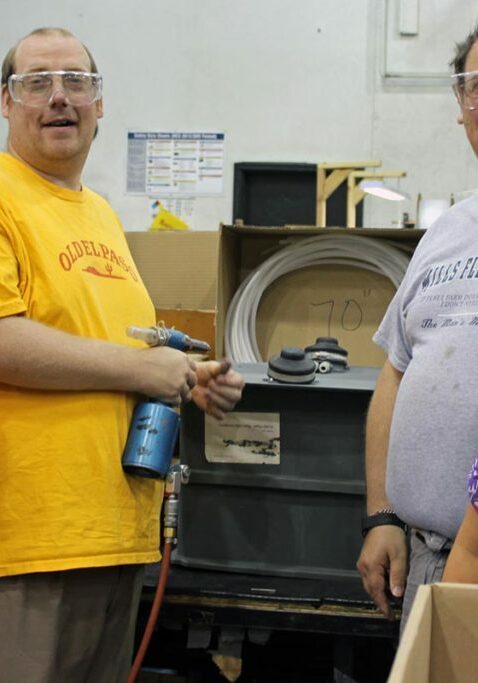 Posted on Sep 05, 2017
Rise and Aggressive Industries have been "good neighbors" since both companies opened their doors across the street from each other on Sunset Road in Spring Lake Park in 1971 and 1972, respectively. Through the years, Rise and Aggressive have also developed a mutually beneficial working partnership.
Recognized nationally for its high quality "rotomolding" plastics manufacturing capabilities, Aggressive has subcontracted with Rise on many different projects over the past decades.
In May, they contacted Rise Sales and Marketing Representative John Nielsen to quote on some assemblies. John discussed the benefits of having a team at their location to perform the work and Aggressive was open to the idea. Starting with three people, the team expanded to seven in August.
Aggressive manufactures products for other companies in a wide range of industries, including the military, manufacturing, agriculture, chemical, recreation and sporting, as well as toys and juvenile products, and material-handling parts such as totes and bins.
They also have proprietary products of their own such as the SuperDeck Floating Dock System found on waterways throughout the country.
"Our Rise team is really enjoying the variety of work at Aggressive," said John. "The tasks and jobs can change on a daily basis which people seem to really like. Everyone is focused on meeting Aggressive's high standards of quality workmanship and their good work is appreciated by Aggressive managers and employees."
Among the current products people are working on are assembling plastic totes and bins of various sizes and shapes; others are assembling hand-washing stations found in public places and private companies. Both products have a multi-step process which calls for precision and attention to detail.
"Rise workers are enthusiastic people who have a very positive attitude and always want to do their best to help us meet our production goals," said Greg Levendoski, Aggressive's production supervisor. "We're excited to be moving forward with some new projects."
"We like that Rise provides an on-site supervisor," noted Shelly Peterson, ISO (International Organization for Standardization) compliance manager. "We very much appreciate their ability to meet and support Aggressive's quality and ISO compliance standards seamlessly. We are all on the same team, with the same goals. You can see the benefits throughout the production floor and processes."
"It's great having such a nice long partnership which we hope will only continue to develop," John added.
This article appears in the September 2017 issue of the Rise Reporter.