RISE WORKERS AT FEDERAL PREMIUM AMMUNITION MOVE INTO SPACIOUS NEW BUILDING WITH GREAT AMENITIES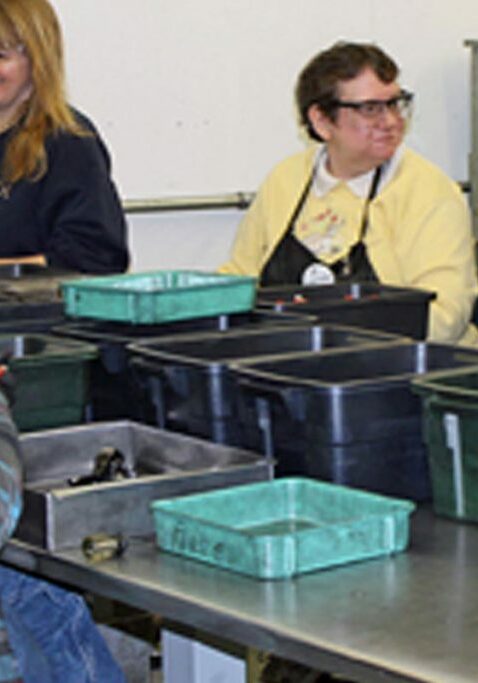 Posted on Feb 25, 2015
Since 1987, Rise workers have been a valued addition to the workforce at Federal Premium Ammunition in Anoka. The team of more than two dozen workers, along with CBTE Site Supervisor Marian Bodin and CIP Specialist Melissa Pavek, were excited to move into a new building on Federal's compound in November.
The workspace is bright, spacious, and gives them the room they need to do a wide range of tasks disassembling Federal's shotgun shells and scrap ammunition.
The Federal work team also loves having a new break room, complete with storage cupboards, two refrigerators, and three microwave ovens. When the weather warms, they will be able to eat at picnic tables on a patio right outside the door.
Melissa and Marian (shown here with Rodney Swanson and Sharon Kampa)  appreciated working with Federal's facilities operations managers Mike Johnson and Melissa Jacobson on the workspace design and are really pleased with the building.
"With feedback from Rise employees, Federal Premium Ammunition staff were able to design a space that could accommodate current and future team needs," said Mike. "We hope the Rise employees enjoy the new work space for years to come."
"We have a reliable, hard-working team of people here who have always felt to be an important part of Federal's overall operations," said Marian. "There's a lot of work to do — and they do it well.  We love the new building and all its amenities!"
This article appears in the March 2015 issue of the Rise Reporter.