RISE EXPANDS COMMUNITY WORK SITE EVALUATIONS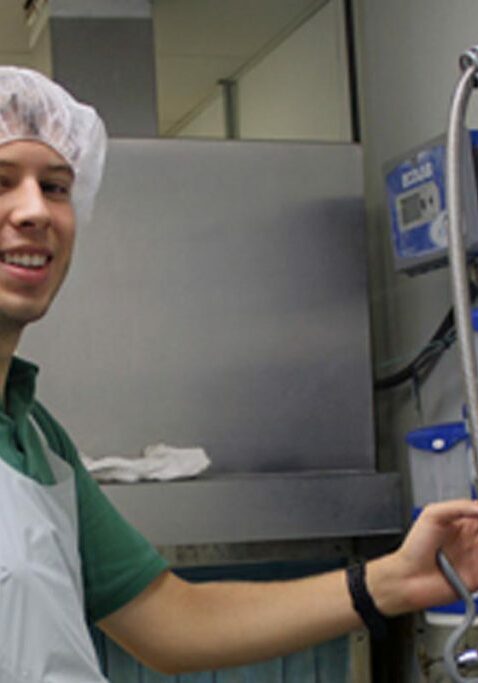 Posted on Aug 29, 2014
Mitch Ries says that one day, he hopes to work with older people in a nursing home setting. "They need help and I'm one of those people who likes to help others. I'm going to attend Anoka Tech to study to be an occupational therapy assistant."
Shown here, Mitch graduated this year from Andover High School and had never worked before, so it was important to find out during his vocational evaluation at Rise if he really would like to work in a nursing home. Rise Evaluator JoAnn Beaudette could assess Mitch's "soft work skills" at the same time.
JoAnn and Jennifer Sudmeier, service team leader for Rise's Vocational Evaluation and Milestones programs, have spent the past year expanding evaluation opportunities by partnering with area employers to provide assessments in industry work settings.
"Conducting a work evaluation in a industry-based job settings gives the evaluator so much more valuable information than the standardized tests we used to use," said Jennifer Sudmeier, service team leader for Rise's Evaluation and Internal Services programs. "We need to assess the person's ability to perform the 'hard skills' of the job, physical tolerances, and general work skills, along with 'soft skills' like reliability, work ethic, how he or she gets along with co-workers, flexibility, learning, style, etc."
"An industry-based work setting also helps an individual determine if work in this field is a good fit," JoAnn added.  "We are always looking at new opportunities to set up customized evaluations to address an individual's particular needs and interests."
Current community business evaluation sites include:
 Arc's Value Village, Brooklyn  Park, New Hope, and Richfield: Retail
 Broadway Pizza, Champlin: Food portioner/prep cook
 CAPI, Minneapolis: Clerical
 Cummins Power Generation, Fridley: Assembly, recycling
 Fairbault Foods, Elk River: Packaging
 Liberty Carton, Brooklyn Park: Assembly
 Pentair, Anoka: Assembly
 St. Anthony Health Center,Minneapolis: Dietary aide
People spend between two and six weeks in Rise's Job Try-Out program. In addition to assessing their skills and abilities as an employee, the evaluators can also determine other services they may need to achieve their career goals. Rise pays the individual's wages and covers Worker's Compensation so the employer has no costs or liability.
Participating employers also have the opportunity to meet and observe a potential applicant as the individual works.
Rise staff provide direction and support specific to the needs of the individual, and if the employer has any issues or concerns, a Rise staff will address those immediately so this can be a positive experience for everyone.
For more information, contact Jennifer at 763-783-2813; email: jsudmeier@rise.org; or JoAnn at 763-792-2443; jbeaudette@rise.org.
This article appears in the September 2014 issue of the Rise Reporter.