MORE THAN 180 PEOPLE HELP CREATE MOSAIC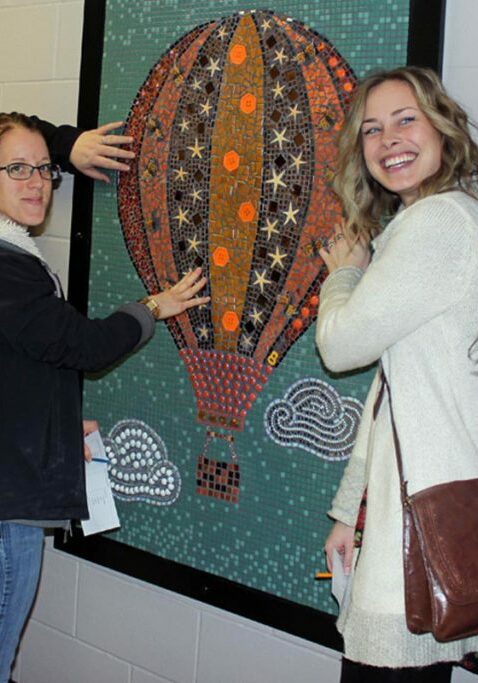 Posted on Feb 20, 2017
A COLLECTIVE 'WOW!!' was heard at the recent unveiling on February 14 of a most spectacular collaborative Art for All project. The expansive five-piece mosaic display stretches down the hallway leading to the production floor at Rise's Spring Lake Park administrative offices. It was created by people served at Rise, team members, and community volunteers who invested more than 400 hours over the past few months.
"We know that this beautiful and unifying piece of art will 'lift' spirits and inspire hope for everyone here at Rise for years to come," said President Lynn Noren. "We are so appreciative of the Greater Twin Cities United Way for their generous funding as well as organizing this Art for All project."
Rise is one of four local agencies to participate in this project.
"The goal was to bring people together at the table to work, talk, and create a piece of beauty," explained Mica Lee Anders, a teaching artist with COMPAS. This nonprofit organization has been putting creativity into the hands of Minnesotans by teaching through art for more than 40 years.
Mica first conducted listening sessions with Rise team members to help develop an overall concept for the project. From those discussions, Mica came up with the hot air balloon theme.
"The 'Rise' and hot air balloon connection is obvious," Mica noted. "But we also wanted the balloons to be uplifting, joyful, and full of movement."
"Moveover, we wanted to make sure that everyone could participate in the creation of this art piece," explained Art Therapist Stacy Gross with Rise's Art Speaks program and who was a key contributor to the Art for All project. "The process had to be inclusive so that even people who had mobility, dexterity, or visual challenges could join in the fun."
More than 180 artisans adhered multi-colored stones, shells, beads, and other special items to the balloon and cloud outlines. The five pieces were then grouted, framed, and hung at Rise.
Volunteers from DecoPac in Anoka, shown here at the unveiling / open house on February 14, were excited to see the finished project; they worked on the orange and yellow ballons in the early stages.
"These amazing mosaic balloons are something, not only to look at and enjoy, but feel with your fingers and be inspired by," Stacy added. "I think they have far exceeded our original expectations."
This article appears in the March 2017 issue of the Rise Reporter.