LAKELAND TOOL & ENGINEERING AN IMPORTANT PARTNER SINCE 1993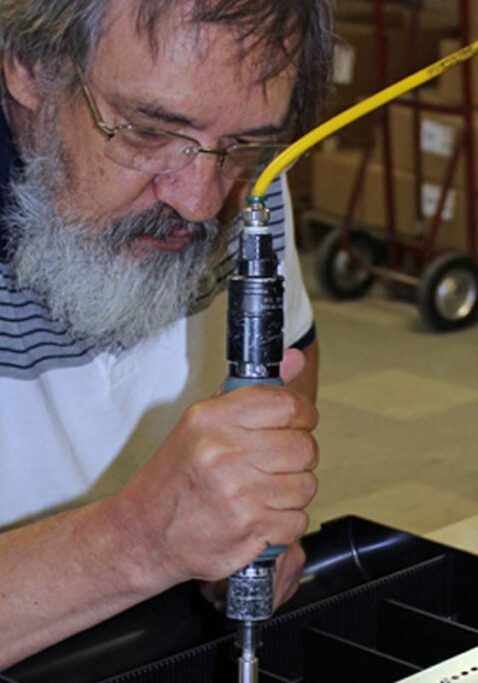 Posted on Aug 24, 2015
A quick scan of the production area Lakeland Tool & Engineering in Anoka shows people working on a wide range of interesting and challenging subassembly and hand packaging contracts, from assembling cash register drawers to putting together pulley kits for specialty beds. Rise has had a business partnership with Lakeland since 1993. Lakeland designs and produces thermoplastic and thermoset molds for customers worldwide. Ray Timp is shown here assembling case register drawers.
Their production managers appreciate Rise's ability to provide a workforce that is flexible and can adjust quickly in numbers to meet Lakeland's specific production needs. People from Rise's TBI Connections, Internal Services, and Supported Employment Services-Anoka County programs currently work with Employment Specialist Tonya Kramer and Production Specialist Hailey Ray.
"We had an extremely busy spring and summer," said Tonya. "So we called in extra people from Rise's Community Integration Program in Coon Rapids and Internal Services in Spring Lake Park. Working together, we were able to meet all of Lakeland's production deadlines and did awesome, high-quality work. I'm very proud of all these workers."
Over the past 22 years, workers from several Rise programs have honed their skills. Janelle Johnson said, "I just love working here because of the change of pace; I am never bored because there are so many different kinds of jobs to work on."
"Rise has always been great to work with," said Purchasing Manager Francis Kerkhove. "We appreciate how flexible they are with scheduling and work teams, what quality work everyone does, and their follow-through on projects. We know we can depend on them."
"Whenever they have a new contract in that they think a Rise crew could work on, we check it out," said Nancy Hoff, Rise's senior sales and marketing representative. "Their entire management team is so supportive and Rise is proud to partner with this great company."
This article appears in the September 2015 issue of the Rise Reporter.