ANGLERS KEEP THEIR EQUIPMENT TANGLE-FREE WITH DELUXE ICE ADVANTAGE ROD CASE ASSEMBLED BY RISE WORKERS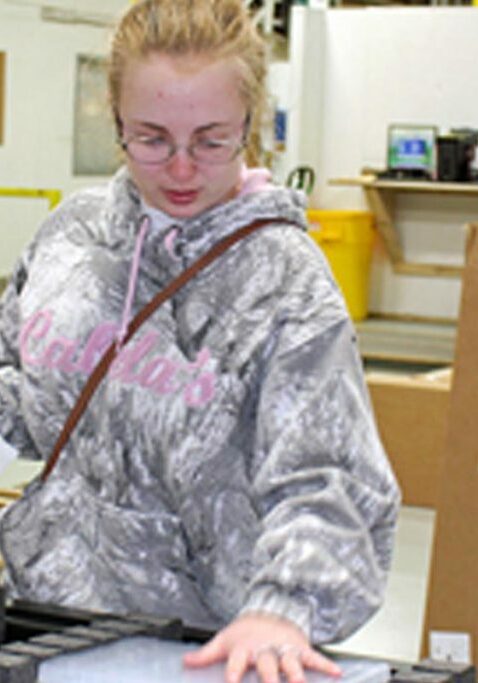 Posted on Feb 25, 2015
Ice fishing is a favorite pastime of many Minnesota sports enthusiasts and people love reeling them in, especially in the dead of winter.
And as most fishermen have a lot of specialized equipment, storing and transporting their gear safely and tangle-free is important. Rise workers at Amcon are proud to be assembling the Deluxe Ice Advantage Rod Case, a favorite among ice fishing enthusiasts throughout the northern U.S. and Canada.
The case is the brain child of Greg O'Dell, a former fishing guide and avid ice fisherman, who with his wife Angela, started a specialty company in 2010 called Ice Fishing Innovations. Up until they first partnered with Rise last November, Angela and Greg constructed these cases by hand in their home to sell at local sportsmen shows and on their website, icefishinginnovations.com.
"We started this side business out of a true love for the sport," said Angela who also works full time at Amcon in customer service and training. "Our goal was to get this into people's hands because ice fishing is a great way to spend time with family and friends.
"We always assumed we couldn't afford to hire others to help with the assembly so we did it all at home. But during peak sales periods from early November through April each year, the cases completely took over our living space. I knew Rise's Marketing Rep John Nielsen from Amcon and we explored the possibility of having the Rise team who works at Amcon help us on the assembly and packaging."
Rise workers carefully insert the foam that holds six rod and reel combos and place in four tackle boxes. It requires precision and careful attention to detail.
"There are so many things that can go wrong in this assembly, but the first order they did was 100 percent perfect – it was just fantastic" said Angela. "Greg and I appreciated not only their high quality work, but their speedy turn-around time and the price.
"While at the Ice Fishing and Winter Sports Show held in December at  the St. Paul River Centre, we met a very special young man, Luke Rodger (left in photo at right). We added him to our Pro Staff team because he was such an enthusiastic user of our product. In our conversation, we explained that a Rise work team assembled the cases for us at Amcon. Luke was excited to tell us that he, too, is a Rise worker at Cummins Power Generation's manufacturing plant in Fridley.
"We're very pleased with our partnership with Rise and are looking forward to future opportunities," Angela added.  "We appreciate not only their quality work, but that they are flexible enough to be able to respond quickly to help us fill orders on an as-needed basis. We could not have gotten through our high-volume sales periods without their efforts. Working with Rise has exceeded our expectations. From the beginning, it has been a wonderful experience and we know we have found a great partner."
"They take so much pride in the work they do and it shows in every case they assemble," said John. "We're confident we can continue to meet Innovations' needs and expectations, and look forward to helping them grow their company."
Photo: Jessica Niemi inserts tackle boxes into a rod case.
This article appears in the March 2015 issue of the Rise Reporter.