AMCON ADDS A RISE TEAM TO THEIR WORKFORCE AND FINDS IT IS A PERFECT FIT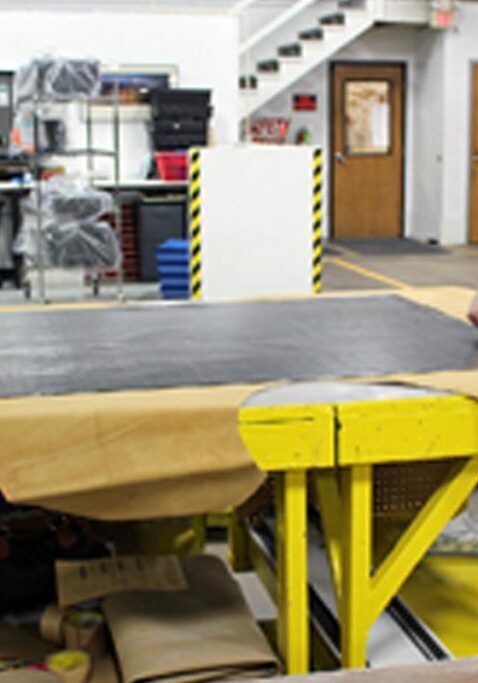 Posted on Feb 25, 2015
Walking through American Converter's (Amcon) expansive foam fabricating plant in Fridley, one is struck by the number and wide variety of customer projects in progress. In the midst of the well-0rchestrated busyness are workers from Rise, intent on their jobs at hand.
After having worked on a wide range of both short-term and ongoing projects for Amcon over the past ten years at Rise's production facilities, Sales and Marketing Rep John Nielsen was pleased last fall when COO Dave Nypower and Production Manager Jason Hanson agreed to bring in a Rise team to Amcon's Fridley plant to work on a contract.
"We considered this a pilot project, but I was confident our workers could prove to Amcon that this was a great working arrangement," said John. "By having a team of workers in Amcon's plant, I knew we could help them expedite the project as well as save them on shipping costs. It also helps carry out Rise's mission of having people integrate into community businesses."
Since 1976, Amcon has been developing creative solutions for custom-cut foam products, including design, engineering, fabricating, packaging, and delivery. They consider their flexibility and quick response time to customers' specific needs to be their greatest strengths.
"The Rise workers just nailed it — we were all very pleased," said Dave. "By adding the Rise team to our workforce, we are able to free up our more skilled laborers for other tasks."
Rise Site Supervisor Lisa Fischer helped develop the site and now supervises the team. In the past few months, the number of workers has increased to about ten and the variety of projects they are working on expands on a daily basis as Lisa and John explore other possibilities throughout the plant. Rise workers enjoy the different jobs as well as the friendly, bright, and clean working environment.
"The men and women are pleasant, diligent workers who fit really well into our distinctive work culture," said Plant Manager Tom Hall. "Their attitude is contagious. Having a supervised and stable workforce that can expand and contract based on Amcon's production needs is a great help."
Amcon is an employee-owned company committed to community involvement, Dave noted. "I consider this part of our calling. We believe in Rise's mission and think that our two companies fit together well."
Amcon was a bronze sponsor of the 2014 Celebrate Rise Fundraising Gala last October. Amcon employees who attended had the opportunity to learn more about the programs Rise offers and the people we serve.
Their heightened awareness only seemed to solidify Amcon's interest in and willingness to support Rise. Controller Jenny Poyorena discussed with Noel McCormick, Rise's director of Advancement, how Amcon might get more involved.
Amcon employees' first opportunity to help came just two months later. During the December holiday season, Amcon employees purchased gifts for the children of three families who are being served in Rise's Mental Health and Housing Support Services programs.
"We so appreciated their kind generosity in helping make the holidays brighter for those eight kids," Noel said.
"I think we will be able to develop natural avenues of growth with Rise," said Production Manager Jason Hanson. "I'm on the hunt for more opportunities to work together."
Photo: Lyle Wedebrand works together with an Amcon employee to apply leather for a shoe insert.
This article appears in the March 2015 issue of the Rise Reporter.