Rise honors our 2020 Champions of the Mission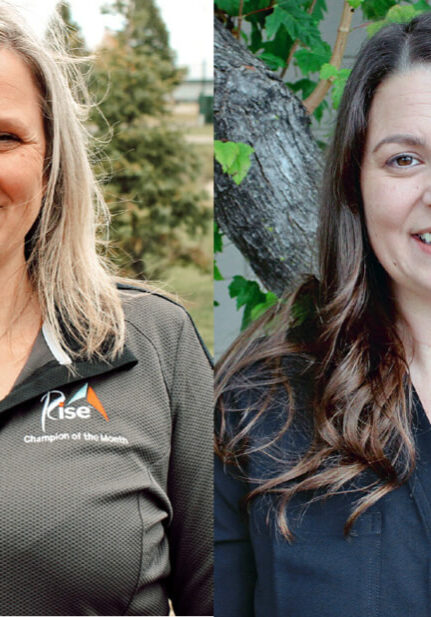 Rise team members are an extraordinary group of individuals who carry out and champion our important mission. Each month, their peers nominate them for a Champion of the Month recognition. From that group of twelve, Rise selected two people to be honored as Champions of the Mission for 2020. Typically, we recognize them formally at our Celebrate Rise Fundraising Gala, but as you know, this year was anything but typical! So meet them here —
SHYLO OLSON
Shylo Olson, a direct support professional (DSP) at Rise New Richmond shown left), is valued by those with whom she works for always having a positive attitude, a big heart, and wanting to make a real difference in people's lives. Shylo also seems to have a special way with each person and makes them feel comfortable, heard, and valued; she is encouraging and preparing people to be successful in the community. Shylo serves on both the Team Member Recognition and Safety Committees, helping to ensure that the entire New Richmond team feels appreciated for the great work they do. everyday.
JENNIFER SAWYER
Jennifer Sawyer is an occupational communication specialist (OCS) with Rise's Day and Employment Sensory Support Unit, working with people who have intellectual disabilities and are blind, Deaf, or DeafBlind. Many of the people whom Jennifer supports have never worked in the community. She is known for her tenacity and continually developing creative ways to assist people lead their best lives. Jennifer is endlessly patient and uses 'teachable moments' to enhance and hone people's work skills. Jennifer is a strong advocate and works effectively with other community organizations to ensure people get the additional support they may need.
This article appears in the December 2020 issue of the Rise Reporter.