Rise Celebrates 50th Anniversary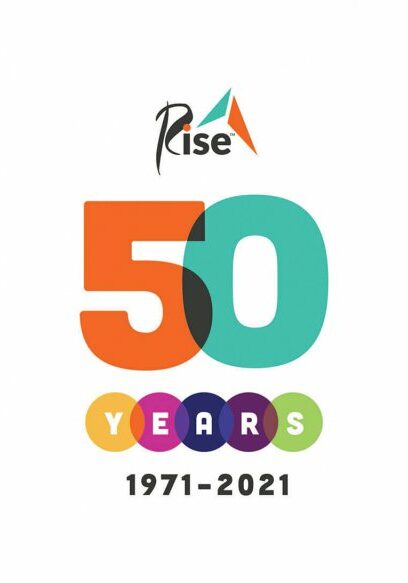 Rise Celebrates 50th Anniversary of Serving Others
The Minnesota nonprofit reached 35,000 people served in this milestone year
Rise, a Minnesota nonprofit that opens doors to success for people with disabilities and adults who face barriers in the community, is proud to celebrate our 50th anniversary this month. Today, Rise has supported more than 35,000 individuals from Minnesota and western Wisconsin to gain employment, secure housing, develop transferable skills, engage in their community and participate in life enrichment activities since our inception in 1971.
Rise's has made a significant impact on people born with intellectual or developmental disabilities since the non-profit began. These populations have faced significant barriers, with a long history of being institutionalized and denied education and other meaningful contributions to society.
It takes a community effort to make Rise's services possible, and this includes the cooperation and support of many local businesses. Rise has partnered with more than 10,000 employers, including Cummins Inc., nVent, Pentair and Bix Produce, to place people with disabilities and
mental illness with jobs.
Rise has continued our mission of community integration despite the barriers the past year has presented. During COVID-19, Rise revised our services to meet the evolving needs of a vulnerable population that was disproportionately affected by the pandemic. This includes
implementing remote service models, housing and mental health services, and lending extra support to people who had in-person jobs, as many people with disabilities were essential workers.
"We have so much to celebrate this year as Rise celebrates its 50th anniversary," said Lynn Noren, president and CEO of Rise. "Over the past 50 years, we have grown and adapted to meet the needs of the people we serve while remaining true to our mission of unlocking their potential through creative solutions and customized support so they can live a life filled with purpose. We are grateful to the people we serve, their families and our team members who are crucial to Rise's success."
Today, Rise has expanded to include 26 locations and not only supports people with a wide range of disabilities, but people with mental illness, refugees, immigrants and those climbing out of poverty. Rise is celebrating this milestone anniversary with a "50 Stories for 50 Years" series highlighting the successful journeys of people it has served and team members.
About Rise
Since 1971, Rise has been a leading provider of employment, housing and enrichment services to people with disabilities and other challenges in the Twin Cities and Greater Minnesota. Rise unlocks potential and opens doors to success through creative solutions and customized support. Each year, Rise serves more than 3,500 people and connects them with the right job, a safe place to call home and one-of-a-kind growth and support.