Rise Anoka team provides modified Day Training & Habilitation services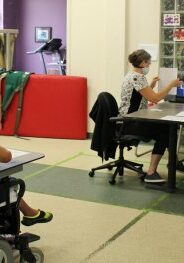 It was hot and steamy outside in the Minnesota sunshine, but inside Rise Anoka, it was a great day for people to enjoy being back together and engaged in entertaining activities with others.
DSP Diann Polzin was leading a modified yoga class with three people who took turns selecting the various stretching and strength-building poses.
Across the room, DSP Janine O'Connell and Program Supervisor Kim Devore were assisting Jordan and Isaiah play a wicked game of Uno. With assistance from his parents, Isaiah had dialed in on Zoom to play from home and the two friends were enjoying the competition.
After a declared Uno winner, Janine, Diann, and Kim passed out Bingo cards to five of the people who geared up for a fun game. With Bingo sheets they had been sent in the mail, others started dialing in from home using Zoom to join in.
Rumors of big prizes were quickly dispelled – it was reward enough just to have a fun group activity.
"We started our partial return on June 15, and things are going really well," said Program Manager Katie Zastrow. Rise's Art Therapist Stacy Gross also comes a few times a week as well as an occupational therapist for those who require those services.
Currently, Rise Anoka has seven people attending from 8 a.m. to 11 a.m. each day. The team plans to bring in others as policies and schedules allow. "We have a great team of people right now who make all this possible," said Katie. "We are all really happy to be back!"