Rise and Medtronic have enjoyed "a partnership that works!" for decades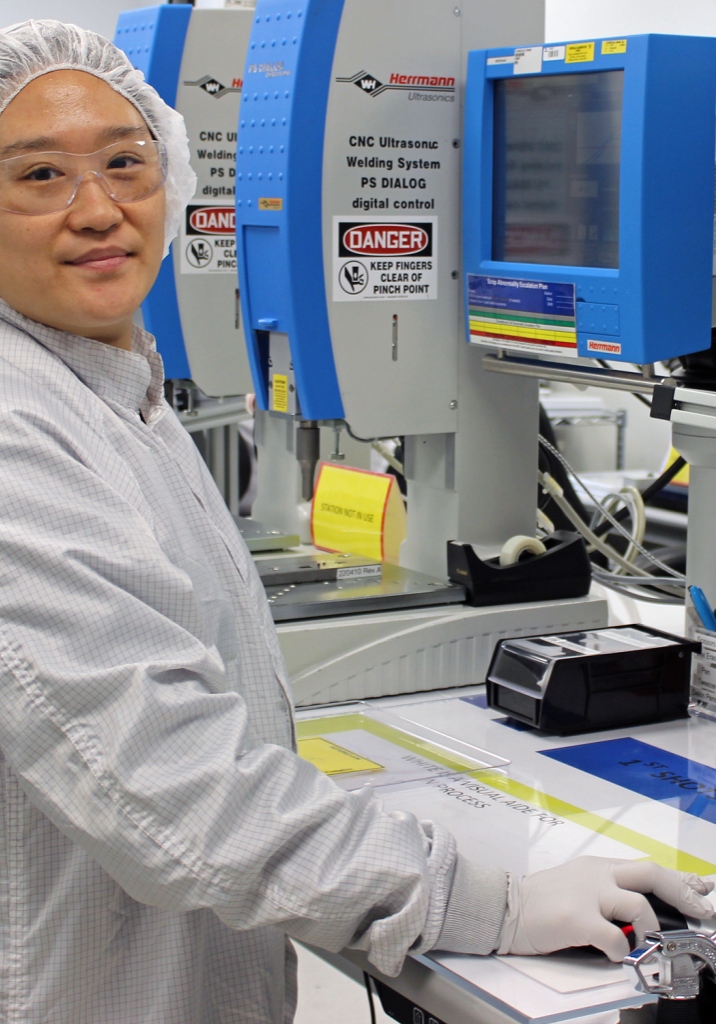 Richard Gottier has no trouble getting in his daily 10,000 steps as he makes his way through the hallways of Medtronic's Energy and Component Center (MECC) in Brooklyn Center. Once an hour, he makes the long trek to pick up finished products and take them to the shipping department.
Having played in two Rose Bowl football games for Ohio State in the '70s, Richard still likes to keep in good shape. "But I could really use a golf cart or roller skates," he said with a laugh.
Considering that he has a Medtronic heart pacemaker, Richard's cardiologist is probably pleased he has such an active job. He also has two Medtronic hearing aids which, together with the pacemaker, likely qualify him to be a walking / talking billboard for Medtronic.
"I work with the nicest people I've met in a long time," said Richard. In between his hourly pick-up and delivery route walks, Richard suits up in static-free, sterile attire to stock supplies in a "clean room" where employees assemble medical devices and components for Medtronic medical devices.
"Richard is an awesome guy who goes above and beyond and does whatever he can to help his co-workers on the material handlers team," said Connie Strand, material handler. Connie recently submitted Richard for Medtronic's Spotlight Award; he was quite proud of the honor.
When Richard was hired in July 2017, Connie was happy to assist in training and develop new work opportunities for him throughout MECC. In his first few days on the job, Connie constructed a map complete with landmarks and stops for Richard to follow to assist him in acclimating to the expansive building.
Earl Bakken founded Medtronic in April 1949 in Minneapolis with his brother-in-law Palmer Hermundslie. Medtronic developed the first external, battery-operated, transistorized, wearable, artificial pacemaker in 1957. In the past 60-plus years, Medtronic has become a world leader in medical technology providing therapeutic, diagnostic, and monitoring systems for people with chronic health conditions. Medtronic has several Twin Cities facilities and manufacturing locations and has expanded to locations globally.
Rise and Medtronic have had a business partnership for almost 40 years in many different areas of both companies. In addition, several people served by Rise have forged long, meaningful careers and take great pride in working for this Fortune 500 company. Tony Karas has worked in a few different Medtronic departments since he started at MECC in 1999. His work duties have changed and expanded over the years, which keeps Tony happy on the job. He currently works as a logistics material handler prepping, filling and delivering orders to their MECC destinations.
"Driving the mini-truck outside and the forklift in the warehouse are definitely my favorite parts of the job," said Tony. "I get around the facility quite a bit so I know a lot of people and get to see all the operations. I have a very responsible job and I think I am a good team member."
Several years ago, while on vacation in Hawaii, Tony contacted Bakken who had retired to the islands, and the founder invited him over for a visit! Tony has a photo taken of the two as a screensaver on his work computer.
Janice Grendahl has worked in several office locations during her almost 30 years with Medtronic. She currently works as an office specialist with the Facility Service Team at MECC. Her eight-hour work day starts at 4:30 a.m.; she keeps busy with a wide range of mail room and other supportive clerical tasks.
Tammy Matthies, shown here, transferred from a Rise community work site in October 2017 and enjoys the quietness of working second shift, assembling and welding internal components which will go into Medtronic pacemakers. It took her about eight weeks of training to learn her job, with an emphasis on 100-percent quality.
"Tammy does an outstanding job for us and takes great pride in her work," said Senior Manufacturing Operations Supervisor Bill Shepherd. "She is very detail-oriented and knows to take her time to make it right."
Bill added that during his years in leadership, he has worked with exceptional people on the Rise team.
"They have been some of the most enjoyable and hard-working people I have ever worked with," he said. "They add value to our site and deliver on this quote: 'Teamwork is the ability to work together toward a common vision, the ability to direct individual accomplishments toward organizational objectives. Teamwork is the fuel that allows common people to attain uncommon results.'"
Gabe Henrikson has worked at Medtronic for about two years and helps assemble and laser batteries for various internal devices. He said the best part of his job is "knowing that the things I build save people's lives around the world."
Richard's housemate, Perry Iacono, retired a few years ago after working as a Medtronic employee for 27 years. Among his many duties, Perry kept production rooms supplied with cases and trays of product and submitted daily inventory counts to supervisors. His Medtronic co-workers hosted a festive retirement luncheon on Perry's last day on the job.
Rise's Employment Consultants Tony Berka and Sarah Gustafson check in with the Medtronic employees a couple of times a month to help ensure everyone continues to do well on the job and address any work issues which may arise.
In addition to working in Medtronic facilities, people inRise's production facilities have worked on a wide range of subassembly and packaging contracts over the years. Currently, work teams are building material return kits and assembling several mailings.
"We have worked with several Medtronic departments over the years and enjoy the opportunity to collaborate with some very talented people," said Nancy Hoff, Rise's sales and marketing representative. "We appreciate how Medtronic managers help match the right person to the right job so that everyone can be successful."
Not only is Medtronic a great employer, but three of their executives have served on Rise's Board of Directors over the past 40 years, including current member Sheila Minske, who is a senior Value Stream manager.
The Medtronic Foundation has also been a generous supporter of various Rise projects and special events, dating back to 1978.