Rise adds fifth Adult Day Program site in New Brighton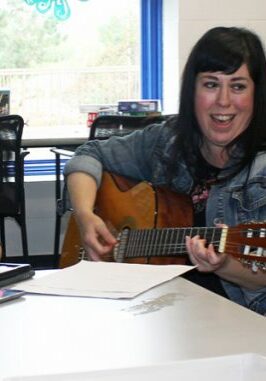 Due to the increase in requests for services, Rise has added its fifth new Adult Day Program (ADP) at the New Brighton Community Center.
Rise's ADP services are fully integrated in community settings, including at the Emma B. Howe Northtown Family YMCA in Coon Rapids, the Fridley Community Center, the Maplewood Community Center/YMCA, and the Mounds View YMCA/Community Center. In total, about 100 people are served in these five locations.
ADP offers specialized recreational, personal growth, as well as health and fitness services for people who have intellectual and physical disabilities, brain injuries, and related conditions.
Depending on the Rise ADP location, people can choose to participate in a wide range of activities, including art and music therapies, cooking and nutrition, YMCA group classes and events, fitness activities, volunteer community service projects, as well as social and learning activities.
"When I approached the New Brighton City Council about the possibility of hosting an Adult Day Program in their community center, the city was just starting an inclusive community taskforce," said
ADP Program Director Judy Andersen. "So this kind of partnership with Rise fit perfectly into their plans for the future."
Prior to its opening on August 13, Judy and Program Supervisor Kim Sorenson worked with Jennifer Fink, the city's director of Parks and Recreation, and Community Center staff to discuss programming opportunities and determine how the two organizations could work together.
"Because Rise offers our Adult Day Programs in partnership with other community organizations, we are able to cost-effectively expand the specialized services and opportunities to better serve individuals' needs and interests," Judy explained.
In addition to the many ADP services, people will have access to the community center's resources. People benefit from having access to a great walking track, exercise machines, gymnasium, classes, and a branch of the Ramsey County Library.
With individual, flexible scheduling, people can create their full-time or part-time schedule to suit their personal needs.
"This is a great location – a really amazing facility," Judy added. "Jennifer and all of her staff have made us feel so welcome. They continue to come up with fun ways for us to work together. I know it will be a great collaborative partnership."
For more information regarding Rise's Adult Day Programs, please contact Judy Andersen at 763-567-0626; email: jandersen@rise.org.
Photo: Case Manager Rachel West leads a song fest of Elvis and Johnny Cash favorites.