Randy's career is 'going to the dogs' which he finds fun and truly rewarding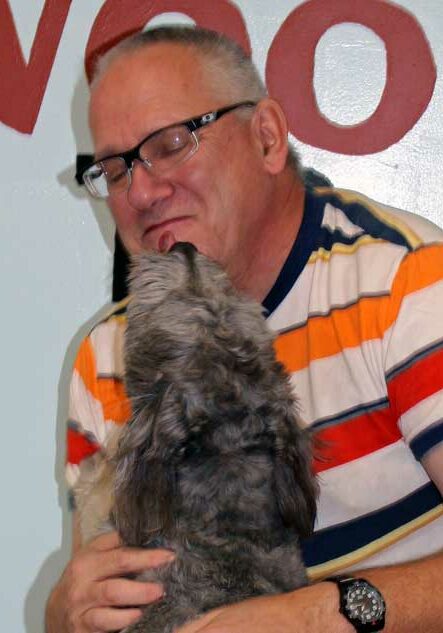 Opening the door to Woof Central in Richfield, one is greeted with the cacophony from dogs of all sizes, breeds, and barking abilities. About 75 dogs a day go there for doggie day care, boarding, training, and/or grooming.
Having grown up on a farm with lots of animals in Pennsylvania, Randy Fritz feels right at home there. He finds his job as a dog handler (in training) most rewarding.
"I love to win a dog over – you have to read their body language and then meet them at their level, let them come to you."
In the doggie day care areas, the dogs are separated according to their size (small, medium, and large). Each breed has its own characteristics and each dog has its own personality; Randy works to know them all well. He says the best part of his job is interacting with the dogs individually, giving them plenty of play, care, and attention.        
Over the years, Randy has worked in a wide range of career fields, including manufacturing, health care, landscaping, graphic arts, and retail. With a family history of depression, Randy has struggled with low levels of depression since 1987.
But when his partner Charles died in 2010, Randy's grief compounded his depression and for the next few years, he was treated on an inpatient and outpatient basis. He lost his job in 2014 and "the bottom just kind of dropped out."
Yet Randy kept pushing forward, and despite some additional physical limitations, by 2016 he was ready to re-enter the workforce.
"My overall goal was to feel better and get beyond the depression," he said. "I wanted to get back to work and contribute to society, but I was having a hard time finding a job on my own."
Randy learned about Rise's career planning and job placement services through the Hennepin County Mental Health Center (HCMHC). Lori Clauson, an employment consultant in Rise's Creating Access program which is offered in conjunction with the Center, began working with Randy to determine what kind of career he was interested in and where he could best apply his skills and interests.      
Lori assisted him through the planning, job searching, and applying processes. "I enjoy my job at Woof Central so much that it doesn't feel like work," he noted. "I really put all of myself into my job."
Lori says Randy has been great to work with, follows through on his goals, and now is "receiving the benefits of all his hard work."
Not only is he happy to be working again at a job he loves, but Randy says he also wants to use his mental health experiences to help others in a positive way. He hopes to speak at the HCMHC outpatient group. "I want people to hear my story and know that you can come out on the other side and live a good life."
Randy says that through his journey of finding answers, making changes in his medications,  and exploring new interests with others, he has found a good balance in his life.
In his free time, Randy enjoys camping and hiking with a group called Outwoods. He also joined Cook Boys whose members take turns each month hosting a dinner party based on a special theme. Randy is active in his church, Mount Olive Lutheran Church in South Minneapolis, where he volunteers in their soup kitchen and ushers at services. He and his friends often get together to play board games and go biking.