STORY #7 – CARIN ANDERSON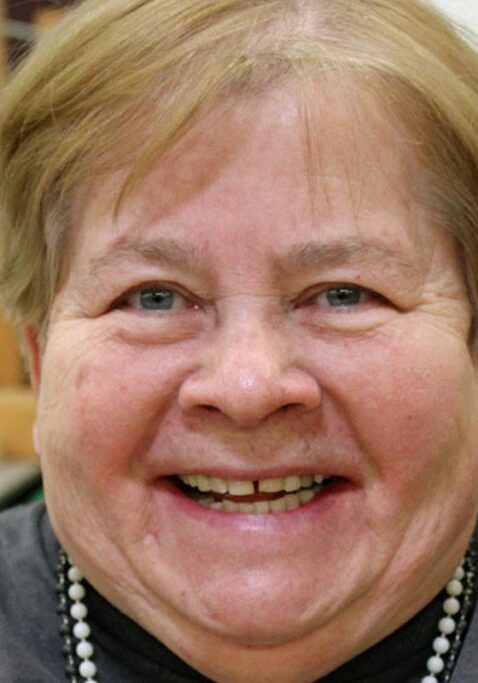 Posted on Feb 15, 2016
At age 65, Carin Anderson says she has no plans to retire. "I like working too much; I'll just keep on going for now," she added.
Carin started at Rise soon after it opened in the early 1970s. She was one of the first people to go through what Rise then called Vocational Skill Training. Following her completion of an intensive training program in the laundry department of a nursing home in Coon Rapids, Carin worked with a Rise placement counselor and found a fulltime job at a nursing home in Columbia Heights. She worked there for 29 years before the facility restructured and Carin lost her job.
"I loved that job," Carin remembers. "I loved the residents and we had a good team who worked together in the laundry. It was a really, really good job."
Carin was unemployed for a short time, but eager to get back to work. She returned to Rise and now enjoys doing packaging and assembly jobs at the Spring Lake Park production facility. In addition, Carin's work team often takes on short- and long-term work projects for other business customers at their community work sites.
"I like getting to work on so many different things," said Carin. "I'm proud of my work and think I'm good at what I do. I've met a lot of nice people and made good friends at Rise."
Carin's aunt, Florence Anderson, served on Rise's Board of Directors in the mid-1970s, including a term as vice president. With an impressive background in education, Florence was a highly dedicated director who took her Board responsibilities seriously. And she was concerned what the future held for her niece so contributed her time and skills to help the new organization get established. Like the many fine community volunteer directors who have served throughout Rise's 45 years, Florence worked hard to help ensure people received effective program services. She is shown here at an early Board meeting between LeRoy Johnson and Ross Johnson with Dawn Young.
"My Aunt Florence was a great lady and it was special of her to be on the Board because I worked at Rise," said Carin. "I was very close to her and she is really missed."
Carin lives on her own in an apartment in Blaine. She enjoys performing with Merry Music Makers, playing bingo, and socializing with her many friends.