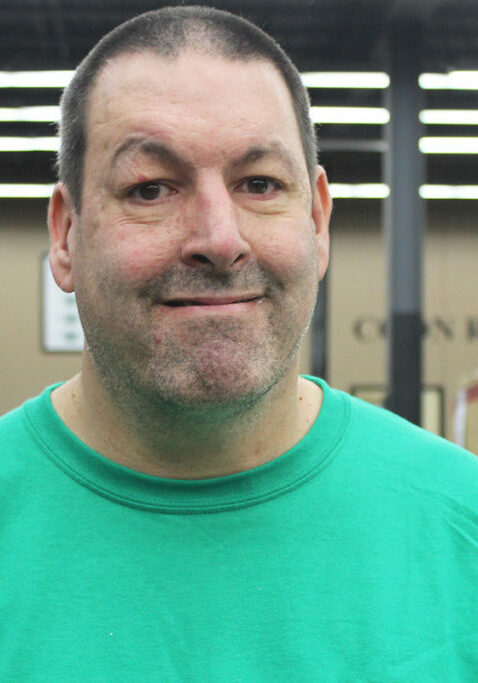 Posted on Dec 05, 2016
Living up to his nickname at HOM Furniture, "Hercules," is hard work, literally – but John Fleagle gives it everything he's got every day.
As one of the first to join the crew when Rise established a workplace partnership with HOM Furniture in Coon Rapids ten years ago, John is a veteran who has worked on all the various job tasks there.
"Everything we ask of John he does with a smile – no matter where he's working, he's doing a great job," said Dan Lentz, HOM's operations personnel manager.
John, who is 52, has worked with Rise since graduating from Coon Rapids High School 30 years ago. He has worked at a number of different business locations, including Target Distribution Center and First Team Sports, as well as Rise's production facility in Coon Rapids with the Community Integration Program (CIP).
John's team of workers helps with HOM's sorting and recycling materials from its furniture packaging. Each year HOM recycles more than 2.5 million pounds of cardboard, plus hundreds of thousands of pounds of plastic and Styrofoam.
"I like working at HOM because I don't want to be bored," said John. "I work with good guys and we work as a team. I like being on the move."
Dan says John has an excellent work ethic. "He comes in each morning, finds his gloves, and gets right to work. John's not much for chit-chat while he's working, but he's an overall great guy. He is diligent and we can always count on him."
"I'm tired at the end of the day!" John added.
He lives in a group home in Ramsey with three other men. In his free time, John enjoys bowling with the Special Rollers at Classic Bowl in Coon Rapids and eating out at Subway and Arby's. He attends People of Praise at Anoka Covenant Church and will play a shepherd in their upcoming Christmas pageant later this month.