STORY #37 – ALLISON DUKEK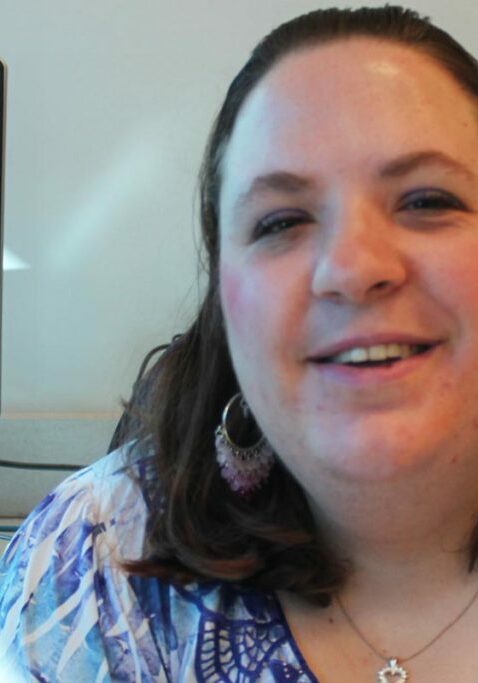 Posted on Oct 24, 2016
Beaming with confidence, Allison Dukek is excited to be moving forward with the next phase of her career. She is working with Placement Specialist Sandy Pelava to polish up her resume in preparation for her upcoming job search.
Currently Allison is working as a data entry clerk and receptionist at Rise's Creative Partnerships South in Bloomington. She learned her computer skills from her brother Nathan, whom she noted is a bona fide computer "guru."  Allison is skilled in the wide range of software programs she uses to do data entry, timesheets, filing, and clerical support for Rise team members.
Being a cheerful and outgoing person who really likes to help others, Allison also has just the right skills and personality to serve as Partnerships' receptionist which she does on a rotating basis with three other people.
As much as she enjoys her clerical support tasks, Allison has her sights set on a career working with young children. A few years ago, she volunteered at a church day care center and found her passion.
"I have two little nieces and a nephew, ages 8-, 7-, and 2-years old – and they are my world," said Allison, who thrives on her role as an auntie. "They are good training!"
She and Sandy have been working together since August, going "one step at a time to find the perfect job; I know we're going to find it," Allison added with assurance.
When asked what assets she possessed to make her a good job candidate, Allison answered without hesitation: "I want to give to others and I'm very caring. I'm also outgoing, smart, and have a positive attitude. I am very determined to prove to people, that I have the skills to do great things, including my doctors who put labels on me and told me I wouldn't be able to accomplish very much."
A 2004 graduation of Lakeville High School, Allison recounted being in special education, but "pushing and pushing to get into mainstream math classes. I passed all the tests with flying colors," she added proudly.
"I want to encourage people to push forward and try hard," said Allison. "My family always gave me love and support to make sure I would be successful and I am so grateful to all of them."
In her free time, Allison enjoys bowling, going to movies, shopping, and hanging out with her housemates. She learned to cook from her grandmother with whom she was especially close. Today Allison loves to treat her friends to fabulous dinners, including her specialty, fettuccine alfredo.