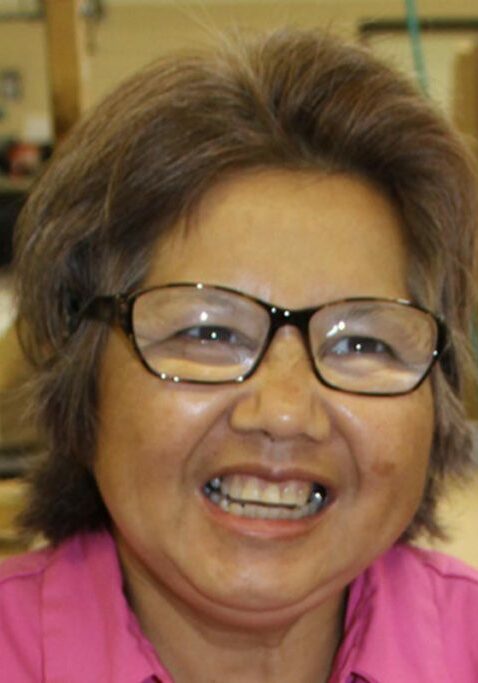 Posted on Sep 06, 2016
Mee Thao was only eleven years old when her parents and three sisters made the long trek from Laos to live in Minnesota in 1978. Despite the tremendous changes in culture and climate, Mee's family happily embraced their new home here and did well.
Born deaf and having used Laotian Sign Language, Mee easily learned American Sign Language through the deaf program at Como Park Elementary School in St. Paul; she graduated from Humboldt High School in 1989.
When Mee, who is 48, started working with Rise's Day Training and Habilitation Sensory Support Services in 2011, she honed her work skills on a variety of production jobs. Service Team Leader Jessi DuVall describes Mee as a "very hard worker who is always looking for ways to jump in and help her co-workers. She is encouraging and supportive of others, and has many friends here."
After a few years at Rise, Mee wanted to branch out and find a competitive job in the community. She worked with Rise's Employment Consultant A.J. Herculeidez to develop a career plan and find a good job.
Having worked at a McDonald's restaurant many years ago, Mee decided she wanted to again pursue a job there. She was hired in October 2015 to work Mondays and Saturdays at the McDonald's in Roseville.
"I love to clean!" Mee said through an ASL interpreter. She explained that she helps keep the dining room plus the soda fountain and condiments areas cleaned and stocked.
Mee continues to work at Rise two days a week and especially likes working on Electrolux assembly projects for refrigerators and freezers.
She takes Metro Mobility from her group home in Brooklyn Park to work and is learning to take the MTC bus. Mee's next big goal is to get her own apartment closer to work.
In her free time, Mee is active at the Bread of Life Deaf Lutheran Church in South Minneapolis. She also attends the Deaf Mental Health Drop-In Center through People, Incorporated in Minneapolis where she enjoys social and recreational activities, plus outings to local restaurants and venues. She has a 24-year-old daughter, Maria, with whom she likes to spend special times together.