STORY #3 – LAURIE ZSCHOKKE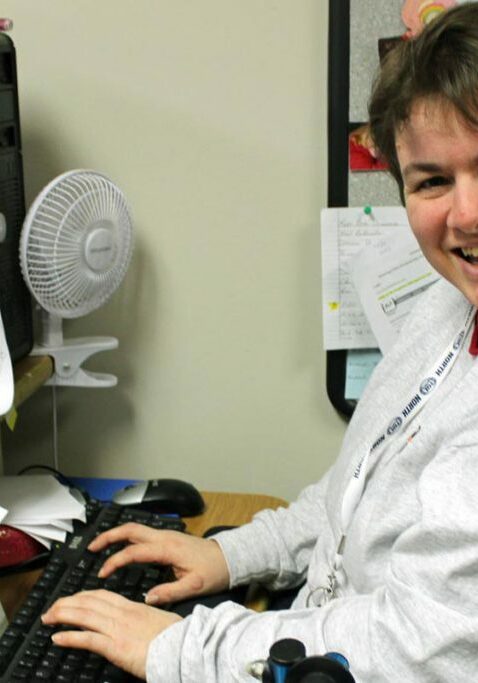 Posted on Jan 18, 2016
As Rise transitions to a new computerized payroll system, Laurie Zschokke has her work cut out for her. A data entry clerk with Rise's DataAbility team since 2001, Laurie has enjoyed the challenge of learning an entirely new process for ensuring Rise Transportation staff get paid correctly, as well as tracking Rise vehicle maintenance and verifying monthly fuel costs.
"I've been learning a lot of new things lately – and I like that a lot," Laurie said. "I have to double-check everything I do before I go on to the next entry. It's a really big process, but we have to get it done right – people rely on us."
The New Year rang out with some really good news for Laurie – her doctors said she was cancer-free and wouldn't have to come back to see them for one year. Laurie said she has been waiting for them to say "one year" for a long time.
Laurie fought non-Hodgkins lymphoma with the spirit of a warrior. She had chemotherapy every two weeks for five months in 2012. Periodic CT scans over the past few years have monitored her health. She lost her hair, but was happy when it came back in thick and with a little wave.
"When I was sick, I came to work four days a week, but when I felt good, I came every day," Laurie said with pride. "I wanted to come to work rather than stay at home. I didn't want to waste away doing nothing – and besides, I wouldn't get paid!"
What kept her going? "You have to fight. I've always had to fight – just to even walk, I've had to fight. You just have to keep going. Even when I was sick and weak I kept going. I did it – and I'm really proud of myself."