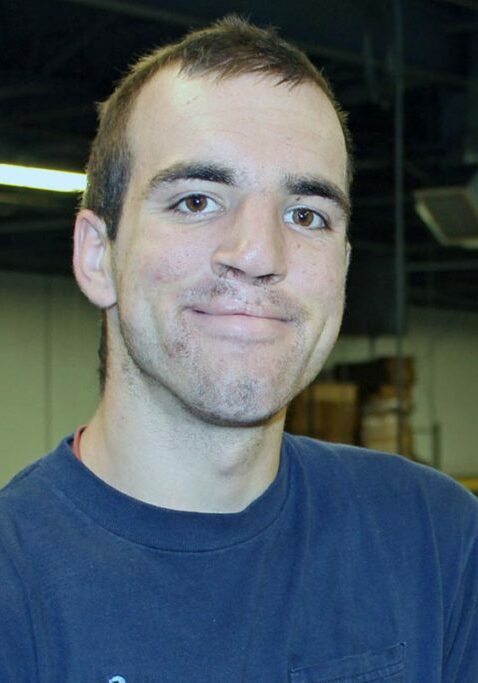 Posted on Aug 22, 2016
It takes good organizational skills, a solid work ethic, and motivation to be able to juggle two part-time jobs – and that's just what Nick Carlson has to make him successful.
Fortunately for Nick, the two companies are located only blocks apart in Coon Rapids which makes getting to work on time at both easy. Wednesday mornings he does janitorial work at Cedar Creek Energy, which designs and installs energy-efficient solar, lighting, and building automations systems, before moving on to his second job. Employment Consultant Sarah Kohl-Leaf assisted him with his job search.
Nick, who is 23, works at Park Precision Machining, Monday through Friday, 8 a.m. – 1:30 p.m. He started in December 2014 doing janitorial work, but as he mastered job tasks, Park Precision continued to add to his duties.
Today Nick cleans the office and public areas as well as sweeps and mops out on the production floor where Park Precision's professional team do machine grinding, thread milling, mechanical electrical and hydraulic assembly, and welding. In addition, he assembles boxes for shipping, sorts metals for recycling, and hand assembles metal products.
"I like having so many different things to do," said Nick. "They let me know when I come in in the morning what they want me to work on. I have to be very organized so I give it my all every day and work hard. It's challenging and fun."
Park Precision employees appreciate Nick's good work and he enjoys their camaraderie and friendships, sometimes going out for a quick lunch with some of his co-workers.
Prior to his current jobs, Nick worked with Rise work teams at Pentair in Anoka, Lexington, and HOM Furniture in Coon Rapids. "I think I developed good work skills at those jobs which helped open doors for me to work at Precision and Cedar Creek."
Nick lives with his family in a busy household in Blaine, which includes two moms, one brother, three sisters, and a young nephew. He enjoys playing the guitar and developing his reading skills because he'd like to go back to school to study to be a veterinary technician.
Jenny Onnen, a Rise customized job developer, provides follow-up support services to Nick. "I'd really like to work with animals and plan to volunteer at the Animal Humane Society to make sure it is the right field for me before I go back to school. One step at a time."