STORY #27 – DUSTIN TRUDEAU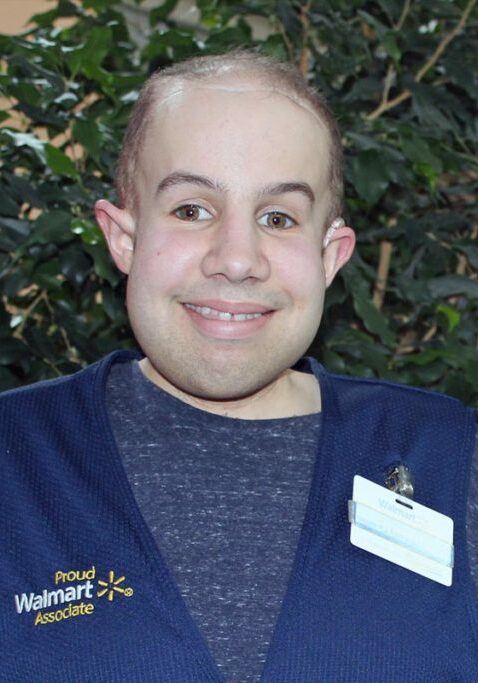 Posted on Aug 15, 2016
When Dustin Trudeau was diagnosed with a brain tumor at only 19 months old, doctors gave his mother Karen little hope for his recovery. In fact, few children had survived such an aggressive cancer and his oncologist had suggested giving up on treatment.
But Dustin never quit fighting. Today, he is a proud employee of the Walmart store in Roseville who loves golf and baseball, playing video games and hanging out with friends.
It hasn't been an easy ride, though. Life-saving chemotherapy and radiation treatments left Dustin deaf in both ears and with a learning disability. He's had close to ten surgeries, including one for another brain tumor shortly after he graduated from Concordia High School in 2006; he has also had two bouts with meningitis.
"I've spent a lot of time in hospitals," said Dustin. "People are often curious about my cochlear implant which helps me hear and the long scar I have across my forehead. I don't mind telling them how I got them.
"Once I got back on my feet, I explored finding a job that fit me best and I would be able to use my experience and skills."
Dustin was referred to Rise's Minnesota Employment Center (MEC) for People who are Deaf, DeafBlind, and Hard of Hearing for career planning and job placement services by Minnesota Vocational Rehabilitation. To help him decide on a career field, Dustin did some job tryouts in the retail industry as well as a gardener's aide at the Como Conservatory.
Dustin was originally hired by Walmart as a maintenance worker in September 2015, and was then was transferred to a greeter position. The store has since discontinued having greeters at the door so Dustin is now back to working in maintenance; he also enjoys assisting customers when asked.  MEC team members helped him through the transition and with job training for his new position. Occupational Communication Specialist Anna Wessling continues to provide him with follow-up support services.
"People at MEC kept on helping me even when I felt discouraged or lost," said Dustin. "I am grateful to have MEC in case I run into a problem I can't solve on my own at work."
Walmart managers and co-workers, as well as customers, appreciate Dustin's positive attitude and solid work ethic.
"I would like to see what other positions I could successfully achieve in my future with Walmart and help their business grow," he added. "Walmart has given me a great opportunity to learn and use my skills. My dream job is to be a Walmart store manager; I really admire the managers."
One of Dustin's favorite hobbies is golf; he will compete August 19 in a golf tournament in Lakeville which supports Make-A-Wish Minnesota and other good causes. He is proud to help this great organization raise funds to help kids have their wishes fulfilled.
"Make-A-Wish is close to my heart because my mom and I got my wish granted to go to Ireland for eight days after I graduated from high school," Dustin said. "One of my favorite memories of our trip is taking a buggy ride to visit a castle and seeing a double rainbow."
We hope it continues to bring Dustin good luck!