STORY #22 – JENNY JOHNSON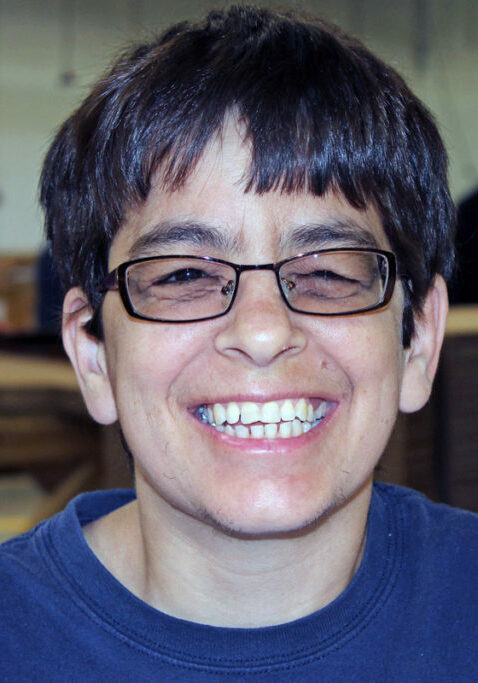 Posted on Jun 27, 2016
"I'm good at all my jobs," said Jenny Johnson proudly. "I like to accomplish a good day's work everyday."
Jenny, who is 47, has been working at Rise since 1989 after completing her education at #916 Vocational Technical School in White Bear Lake. Over the years, she has worked at many businesses throughout the Twin Cities area, including Federal Premium Ammunition in Anoka, Muscle Bound Bindery in Minneapolis, and Liberty Carton Co. in Brooklyn Park.
"My favorite place to work was Multi-Tech [Systems, Inc. in Mounds View], Jenny noted. "I worked on an assembly line and you had to be really precise in building the kits. We were all really good at that job." MTSI designs, develops and manufactures communication equipment for the industrial internet.
Jenny likes the wide variety of work she gets to do at Rise, and after giving it her all on the job, she still makes time for some very important volunteer work. She has served on Rise's Self-Advocacy Council for several years and in that role, does many things to help address disability-related issues, including keeping her peers up-to-date and encouraging them to contact their state representatives.
When the Minnesota State Legislature is in session, Jenny goes to the state Capitol in downtown St. Paul to leave messages for representatives regarding important bills.
"They get back to me so I know I've been heard," Jenny added.
Jenny also volunteers for the Remembering with Dignity project in Minnesota. Years ago, when people with disabilities who were living in state institutions died, many were simply put in the ground with only a small numbered marker. Jenny works with other volunteers to research who they were and replace these markers with their names, giving them the dignity and remembrance they each deserve.
"We're not done yet – we still have a lot of work to do," said Jenny. Remembering with Dignity is not only remembering the lives of these people, but also educating communities about human rights for individuals with disabilities.
And if that's not enough to keep her busy, Jenny serves on a special committee for The Arc. She is also on the state conference planning committee for ACT's (Advocating Change Together) annual self-advocacy conference which will be held next May in Bloomington.
"I'm having a good time with that," she said. "We're finding good speakers and want to coordinate with other self-advocacy and nonprofit groups to put it together so that the conference is even bigger and better."
Jenny has lived with three other women for ten years in Shoreview. They enjoy relaxing in the evenings by watching movies.
Jenny is close to her family, including her parents and brother and sister. She especially enjoys being an auntie to her four-year-old nephew and one-year-old niece.