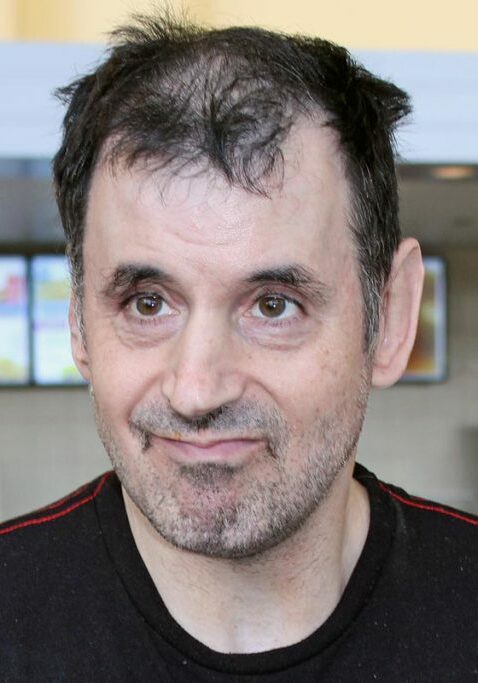 Posted on Jun 24, 2016
Summer movies have been released to theatres across the country and the AMC Coon Rapids 16 Theatre is a busy place. With 16 screens, it's one of the best places to watch the latest show from the comfort of a leather reclining seat.
Among their many good employees is Joe Jepsen who has worked at AMC for two years and loves his job. He enjoys greeting people, taking their tickets, and directing them to the correct theater; Joe also cleans the theaters in between showings.
"I am proud of myself for my good work," said Joe, who just turned 49. "I like that I can work independently."
Joe started with Rise's Community Integration Program (CIP) in Coon Rapids in 1998 and over the years, he has worked with a team at a number of area businesses, including Target Distribution Center, Pentair, Express Point, and HOM Furniture. Joe also worked at CIP's production facility on a wide range of assembly, collating, and packaging subcontracts.
A few years ago, Sarah Kohl-Leaf, a Rise customized job developer, assisted Joe in putting together an updated career plan and finding a job that matched his skills and interests. Jenny Onnen now continues to meet with Joe twice a month to help ensure that all continues to go well on the job.
"I'm very dependable and have a good attitude; I am always very positive," Joe added. "And I have really good co-workers."
One of the best perks of his job is that Joe gets to see as many movies as he wants and bring a guest. His favorites films so far this year are Star Wars, Alice Through the Looking Glass, and Teenage Mutant Ninja Turtles: Out of the Shadows.
Joe graduated from Columbia Heights High School in 1986 and attended 916 Vocational Technical School in White Bear Lake. He lives in his own apartment and receives some semi-independent living skills (SILS) support. In his free time, Joe enjoys taking walks, watching DVD movies, and spending time with his sister Karen.
His great job at AMC has given Joe added self-confidence and pride. He said he wants to encourage people to find a job they really like and work hard.