STORY #20 – JUSTIN STRANTZ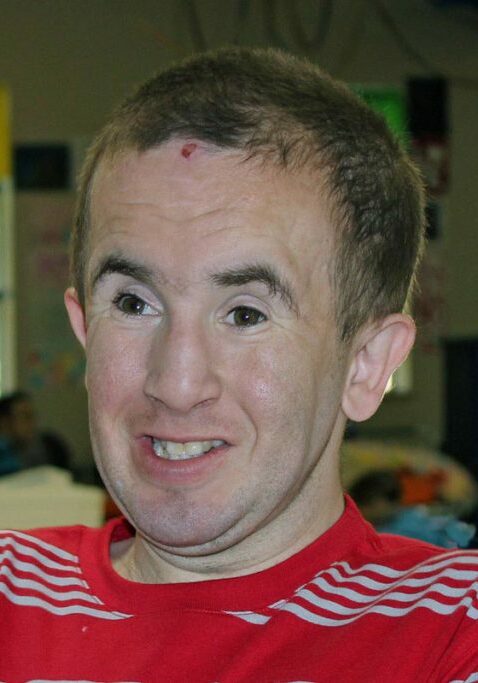 Posted on Jun 13, 2016
Busy doesn't begin to describe Justin Strantz's days at Rise's Community Integration Program (CIP) in Anoka. With a ready smile and a penchant for helping others, Justin always seems to be on the go — whether he is working on production and recycling contracts or volunteering for weekly community projects.
Justin, who is 26, has been at CIP for the past five years and has made some major strides in that time. Rise team members say he has a knack for learning new tasks, knowing travel routes, and pitching in to help whenever there's something to be done.
Justin gets his week off to a great start when he and a CIP team pick up hot meals at the kitchens at Camilia Rose in Coon Rapids to deliver to people in their homes. They all know him by name and look forward to his knock on their doors to hand them their Meals on Wheels. Justin brings a smile to their faces.
Two days a week, Justin works with a CIP team at Anoka City Hall emptying trash and recycle bins. His positive energy is contagious and Justin is often the one pushing the carts throughout the maze of offices and work spaces.
Justin goes with a CIP team on Fridays to a local Coborn's grocery store to pick up bakery items which are reaching their expiration date and deliver them to an Anoka senior center and a local food shelf. He loves to carry in the boxes and is sure to have a friendly greeting for everyone there.
In between working and volunteering in the community, Justin also benefits from Rise's Art Speaks program and music therapy. Once a month he goes with a group to the YMCA to walk the track or work out in the gym. He also likes to walk and bike around the parklike area just outside CIP's building. Although he isn't deaf, Justin communicates through a combination of American Sign Language and his own customized signs.
Justin lives in a group home, but loves spending time with his parents, Mike and Laurie, sister Jamie, and niece, Kylianne. Every weekend, Justin and his dad ride the Metro Transit's light rail trains – conductors know him by name and greet him.