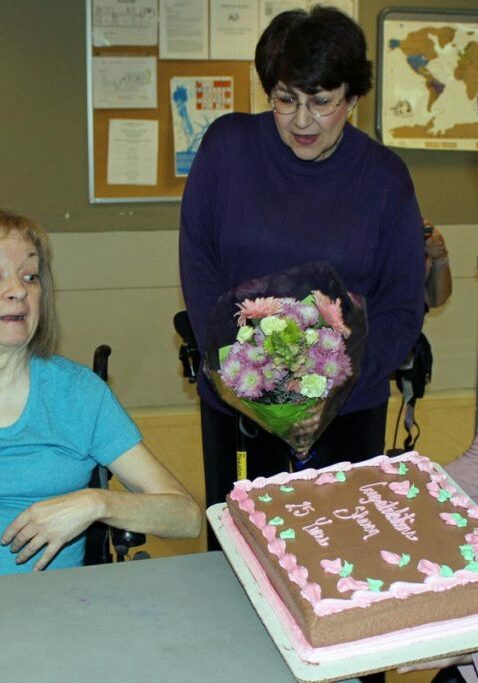 Posted on Jun 06, 2016
Surrounded by the many friends she has made over the years, Sharon Wood celebrated the 25th anniversary of her coming to Rise's Adult Day Program in Golden Valley on May 31 with a little party. With sincere affection, they presented Sharon with fresh flowers, handmade cards, and a decorated cake to mark the special occasion.
In 1987, Sharon was just 29 years old, on the fast track with a promising career in television with Fox News, and living a nice life in Grand Rapids, Michigan, when a drunk driver plowed into her brand new car and changed her life forever.
Suffering from severe head injuries, Sharon lay in a coma for 14 months before eventually regaining consciousness. Doctors gave her family little hope that Sharon would ever walk, talk, or respond to those around her.
But Sharon's family refused to give in to that theory. Looking for a facility that specialized in rehabilitation and therapies for people with brain injuries, they first moved Sharon to Pittsburg, and then eventually to Courage Kenny Rehabilitation Institute in Golden Valley.
Sharon's fighting spirit, along with the strong love and support of her family, enabled her to continually improve. Today she maintains her strength and mobility with therapy, daily walks, and weekly swimming sessions.
Sharon attends Adult Day five days a week and thrives on being with her friends and Rise team members. She enthusiastically participates in a wide range of social, recreational, and creative activities. The others appreciate and enjoy Sharon's friendly nature, her quick, broad smile, and willingness to join in whatever is happening that day.
Discovering a keen artistic talent she didn't realize she had, Sharon especially enjoys Rise's Art Speaks program and has had a number of original pieces hang in local exhibits around the Twin Cities. Most recently, Sharon's painting of a lone wolf hung at the Blaine City Hall. Two of her other favorite art pieces, shown here, adorn the hallways at Courage Kenney.
Still very close to her family. Sharon spends most weekends with her two sisters, Sheila and Karon.
"We are so grateful for Rise and the caring and talented staff that Sharon has interacted with over the years," said Sheila. "Not only have they brought out the best in Sharon, they have provided an inclusive and supportive community that has become the highlight of her day."