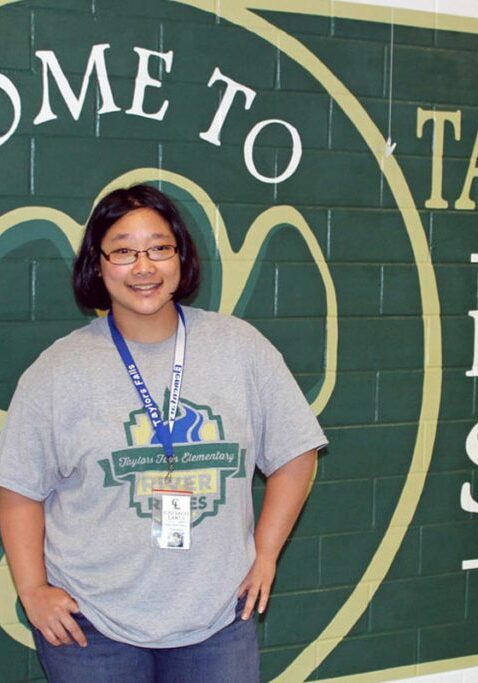 Posted on May 31, 2016
"My hard work and determination have helped lead me where I am today," said Emily Ward proudly. "I have an independent job where I love going to work and working with a team of great people who are there for me."
After trying out an on-call retail job that didn't suit her very well and presented her with transportation challenges, Emily came to Rise's Employment Innovations program in Lindstrom in November 2014 for assistance with career planning, job skills, placement, and follow-up support services.
Emily, who is 26, said she has had many opportunities to learn and work at several different community work sites in the East Central Minnesota area, doing a wide range of work to see what suited her interests and goals best.
"With my Rise job coach's help, I put in a lot of hard work and learned valuable work skills that would help me land an independent job. I learned to help out co-workers and work as a team. I learned how to be thorough at cleaning, to take my time and not rush, pay attention to details, always listen to your boss, and follow directions on the job site to keep you safe."
"Luck came my way in the spring of 2014," said Emily. "My Rise job placement counselor told me about an opening at Taylor Falls Elementary School in the cafeteria as a dishwasher. I applied and the rest is history!"
Emily noted, "This journey has been an amazing experience. I have learned a lot of new skills at this job, such as being fast but thorough, paying attention to detail, working hard, staying calm, and giving it 100% all the time.
Her school co-workers appreciate Emily's hard work and great attitude and say she is wonderful to have on their team.
"This job has been a blessing and I'm very fortunate to work with bunch of nice ladies (like her supervisor Trish shown here) and all the school staff at Taylor Falls Elementary School," Emily added. "I hope to stay employed forever at the school as long as I am able too. Everyone there is so nice."
When the school year ends for the summer on June 7, Emily will rejoin her friends and co-workers at Employment Innovations in Lindstrom. She enjoys working on the lawn crew for local residents and commercial properties as well as with cleaning teams at several area businesses.
An independent young woman, Emily has joined other self-advocates at legislative rallies at the Minnesota State Capitol in St. Paul. She lives in a transitional group home in North Branch and plans to have her own apartment some day.
Emily and her mom have always loved horses and she enjoys competing in barrel racing and pole weaving in horse shows around Minnesota. Emily loves spending time with her family, being an auntie to her young nephew, reading, writing stories, going to movies, and shopping.
Emily would also like to volunteer at Gillette's Children's Hospital in St. Paul to help cheer up the kids. "I was there and I know how important it is to help make them happy."
"For me, if I had to give anyone advice on getting an independent job: give it your 100% all the time and never give up. Always follow your dreams and one of these days you will be successful and who knows — you might even land an independent job, too."