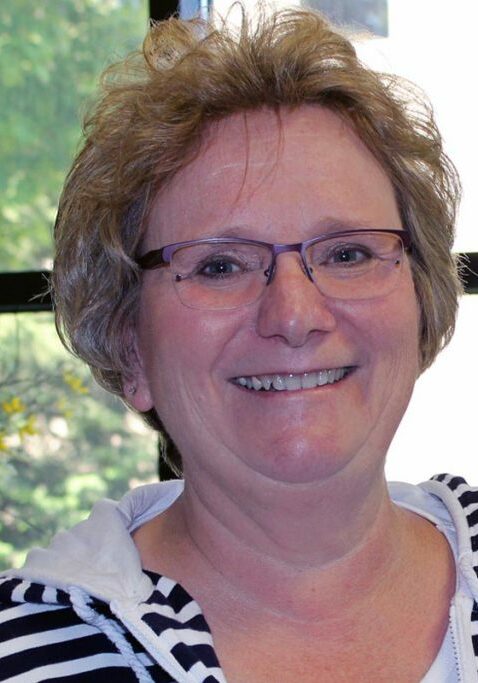 Posted on May 23, 2016
Retirements are often a bittersweet event, both for the retiree as well as his or her co-workers and associates. And so it is for those of us bidding a profoundly grateful farewell to Jan Person, who has served as the Day Training and Habilitation (DTH) coordinator for Rise's Community Integration Program (CIP) in Anoka for more than a dozen years.
After a total of 37 years working in the disability services-related field, Jan will officially retire on June 3. For someone who has trouble taking a well-deserved vacation, making the decision to retire has not been an easy one for Jan.
But she leaves behind her a legacy of effective program development and provision — plus a well-trained professional team of CIP specialists and support staff to carry on.
As a certified occupational therapist, Jan worked for Cambridge Regional Treatment Center for 17 years as well as another private rehabilitation company before coming to Rise in December 2000 as a CIP specialist. Recognizing talent when they saw it, Jan was quickly promoted to a service team leader position and then to DTH coordinator 12 years ago.
Jan had originally planned on being a teacher before switching her career path to occupational therapy. And clearly it is her love of teaching and mentoring other professionals that has enabled her to build a strong, creative, and results-producing team of 25 professionals at CIP, many of whom have been working at Rise for close to 20 years.
CIP-Anoka offers person-centered planning, customized employment, art and music therapies, and community integration opportunities for people who have intellectual disabilities and related conditions.
"Rise has been delivering person-centered services long before we 'officially' began offering them to the people we support," Jan stated. "Under the guidance of [President] Lynn Noren, [Vice President] Tim Dickie, and [DTH Coordinator] Melinda Dannley, I have been able to incorporate those important concepts into the work my team does for many years."
When asked what she was proudest of professionally, Jan spoke of her CIP team. "We have embraced person-centered services. It's all about how we can support people in realizing their dreams and goals.  Everyone here is so good about looking at issues from all sides and then making it happen."
"Each person on my team is so terrific — caring, involved, responsible," Jan added. "The people we serve and their families truly appreciate what they do each day. It's not due to me being in charge — it's because everyone here is committed to do what we can as a group to provide these services — we're one."
Jan also noted what great family members and support staff the people served in CIP have. "In team meetings, everyone is willing to get involved and work together to ensure people are well-respected and their plans are carried out to best suit their needs and interests."
"I've learned a lot working at Rise for which I am grateful — a lot about people, what's important in life, and myself. Everyone has been so supportive of me throughout the years and this retirement process. It will be much harder to leave than I ever imagined. I always thought I would work forever. It's been a really fun ride — I will miss everyone so much."
Jan and her husband Doug have adult twin daughters, two young granddaughters, and a grandson due in August. She is excited about having more even time to spend with them and her 94-year-old mother as well as "put some miles on the road in the Explorer with Doug."
From all of us at Rise, our most sincere thanks, Jan! We wish you all the very best in your new life chapter.