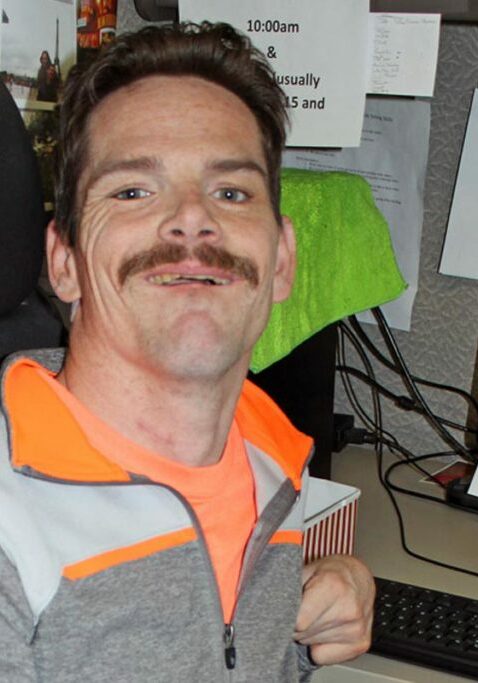 Posted on Apr 18, 2016
Having worked as a data entry clerk for Rise's Data Ability program for the past 15 years, John Cramer has certainly developed some tech-savvy over the years. He not only uses a customized computer for work, but his DynaVox communication device enables John to put a "voice" to whatever he enters on the large touch pad; and his iPad helps him access the Internet as well as email friends and family.
John, who is 35, enjoys being part of the hard-working team of data entry clerks at the Data Ability office in Crystal. John primarily works on entering Rise customers' mailing lists and is very proud of the work he does. He also is eager to share with his co-workers the new technology skills he continues to learn.
One of John's avocational passions is creating art through Rise's Art Speaks program. He is shown here with Volunteer Cathi Gustner preparing his paint pallet. His beautiful paintings have been on display in public venues throughout the Twin Cities, including the Hennepin County Government Center and Dunn Brothers Coffee in downtown Minneapolis. Several of his original pieces are hanging on the walls at home for family and friends to appreciate.
In his free time, John likes travelling; he and his mom have taken trips to Washington, D.C., Hawaii, Florida, New York, Oregon, and Ohio. He also enjoys attending performances at the Guthrie Theater in Minneapolis and the Ordway in St. Paul.