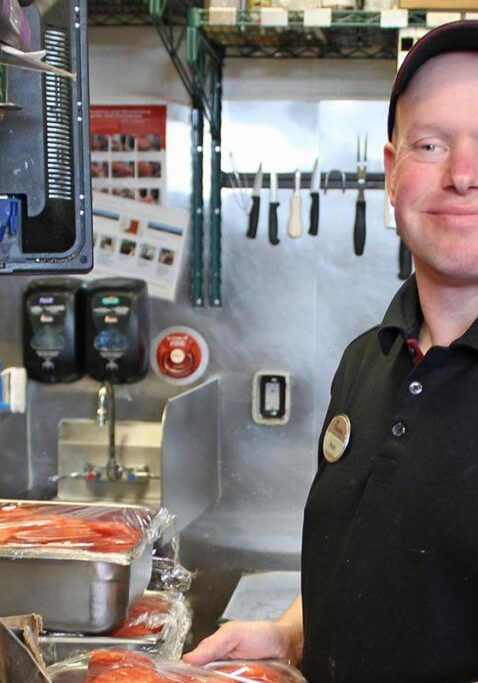 Posted on Apr 11, 2016
The Chick-fil-A kitchen in Bloomington is bustling with activity as employees fill customers' breakfast orders and prepare for the hundreds of lunch and dinner guests who will stop in throughout the day for a great meal. Steadfast and focused on his food prep work in the back kitchen, Peter Fettig is a valued member of the team that helps make this popular restaurant successful.
Originally hired in October 2014 for cleaning the dining room and unloading the delivery truck, the managers at Chick-fil-A recognized Peter's work potential early on. In the past year and a half, Peter has enjoyed expanding his work duties to include food prep, and helping with the assembly of food orders by frying chicken and French fries and toasting buns.
Peter was one of the first people to receive job placement services from the Minnesota Employment Center for People Who are Deaf, Deafblind, and Hard of Hearing (MEC), a joint program offered by Rise and Lifetrack Resources, Inc. when it started in 1996. Over the past 20 years, MEC team members have assisted Peter with developing his career plan, finding good jobs in the community, job coaching, and follow-up support services to help ensure his continued successes.
Conversing through American Sign Language (ASL) interpreter interns Amy Caslow and Chelsey Hill, Peter said he is really excited to have new challenges and enjoys working as a team very much. His Chick-fil-A co-workers communicate with him through gestures, written notes, and video phone and Peter says they all work really well together.
Manager Jon Wright said Peter has proven to be dependable and hard-working.  "He will take on any challenge and knows he can come to any of us with questions."
Peter proudly acknowledges he is a hard worker and has a great work attitude. "I am always focused and never negative," he signed.
Occupational Communication Specialist Mary Jo Duncan has supported Peter since his first job at Pizza Hut at the Mall of America where he worked from 1996 to 2007. Ready for a change, MEC placement specialists assisted him in finding a job at TJ Maxx where he worked for six years before moving on to Chick-fil-A.
Peter lives in Edina and takes the MTC bus or walks to work. In his free time, he enjoys social events at the Thompson Hall Deaf Club in St. Paul, reading, biking, visiting his local library, puzzles, going to the YMCA, and spending time with family and friends.