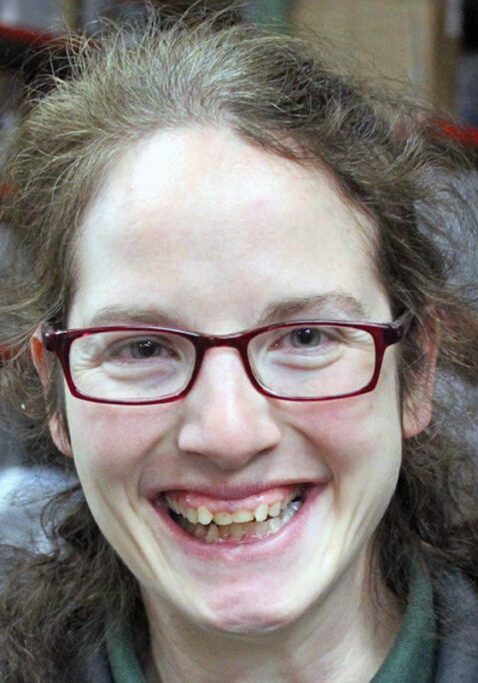 Posted on Mar 28, 2016
It has to be one of the busiest commercial warehouses in town – and Kelly Hoff is among the many hard-working team members at HOM Furniture in Coon Rapids who help keep operations rolling. She is one of about eight workers from Rise's Community Integration Program (CIP) who perform a variety of recycling, cleaning, and folding tasks, from 6:30 a.m. to 1:15 p.m. each weekday.
Just after graduating from Northeast Metro 916 Intermediate School District, Kelly came to Rise in July 2004 for career planning and employment services. She has worked at a number of different jobs during school and at Rise, including at a movie theater, a sports club, and the River City Express coffee shop Rise used to manage in the Anoka County Government Center. But Kelly thinks HOM Furniture is her best place to work thus far.
Once considered a bit quiet and shy, today Kelly is an enthusiastic and conscientious worker who is very outgoing. She is a key member of the team and knows all the jobs well enough so that she can fill in wherever she is needed. Kelly knows her way around the expansive warehouse and collects recycling materials and garbage from throughout.
One of Kelly's favorite jobs at HOM is emptying the scores of trucks that come in each day from HOM Furniture stores throughout the Twin Cities with packing materials to be recycled. Each year, the Rise team helps HOM recycle more than 2.5 million pounds of cardboard, about 244,000 pounds of plastic, and 43,000 pounds of Styrofoam used to package furniture pieces.
Kelly says she also enjoys removing packing tape from wrapping blankets and refolding them for use on home deliveries, keeping the furniture safe and scratch-free during transit.
"The day goes by really fast because we're so busy," said Kelly. "We have a really good team and we all get a chance to do all the different jobs. We have a lot of fun working together."
Kelly celebrated her 33rd birthday on March 24 by bringing cookies and donuts in for her co-workers at HOM, and enjoying dinner at Applebee's with friends and family. In her free time, Kelly likes bowling, working out at the YMCA, and dancing with friends at Amy's Cardinal Nest, a social club in Coon Rapids.