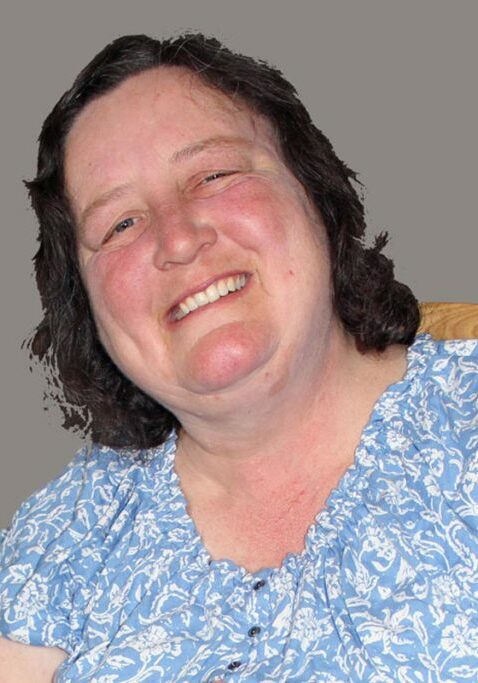 Posted on Mar 14, 2016
As the saying goes, 'There's no place like home.' And Liz is appreciative of having a cozy apartment filled with photos of family, expressions of her faith, and a tropical fish tank. Dusty, Liz's 17-year-old black cat, is contentedly perched in her tower keeping a look-out on what's happening outside.
"I like living here because it's close to my son, daughter-in-law, and two-year-old granddaughter, Kinsley," said Liz. "I really appreciate the help I've gotten from Holly to apply for Section 8 housing – thank goodness I got that so I can live here!" said Liz. Holly Brabeck is one of Rise's Anoka County mental health housing support specialists and meets with Liz twice a month.
Liz was originally referred to Rise in 2010 for employment follow-up support services. Her son had helped her find a part-time job as a greeter and maintenance worker at the Walmart store in Fridley, but Liz needed additional support to be successful on the job. Rise's Placement Specialist Jekeia Hines meets with her twice a month to assist her with work-related issues that may come up.
"I really like my job – there's never a dull moment at Walmart!" Liz said laughing. "I've been there for seven years already – I've never held a job that long! But I have to take the bus to work so getting there on time has always been hard. Holly is helping me apply for Metro Mobility services to make it easier."
Liz said that it means a lot to her to have such great support from both Holly and Jekeia. "Over the years, I've had a lot of nice workers from Rise. Holly really cares about my issues and listens to me; she gives me good advice and helps me with a lot of paperwork. I can tell she enjoys her job and is good at it."
In her free time, Liz enjoys going to Bridgeview, a drop-in center in Fridley, where she has made several friends. She likes doing art projects; Holly has one of Liz's paintings hanging in her office cube. Liz loves spending time with her older son and his family. Her younger son is the first one in the family to go to college; she is very proud of both her sons.