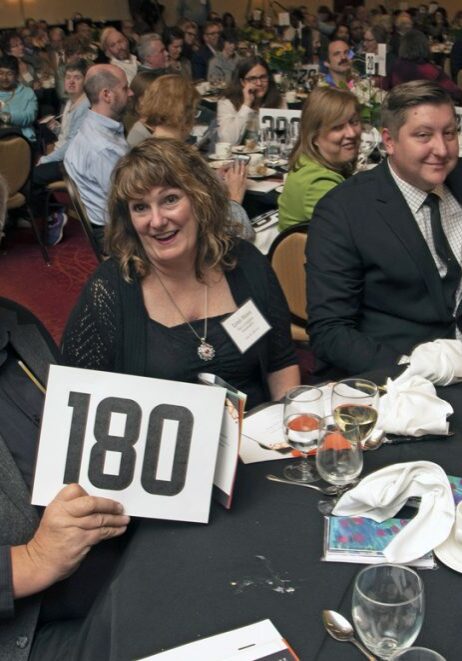 More than 450 Rise team members, people we support, community partners, family and friends, and supports attended the 7th Annual Celebrate Rise Fundraising Gala held October 22 at the Minneapolis Marriott Northwest in Brooklyn Park. It was a festive evening of great food, fun and games, special honor awards, FUNdraising, and much, much more! All proceeds raised go directly to support the men and women served at Rise.
This year's theme was a quote from Poet Maya Angelou: "We delight in the beauty of the butterfly, but rarely admit the changes it has gone through to achieve that beauty." We were honored to have Beth Wozniak, CEO of nVent, address this poignant theme of transition and growth in her opening remarks to gala guests.
We appreciate the support from our premier sponsor, nVent, as well as our Gold Sponsors: Cummins Power Generation, Federal Premium Ammunition, Jack and Jan Grunewald, and Hays Companies. Silver Sponsors: Dan's Complete Automotive, Electrolux Major Appliance, and Northeast Bank. Bronze Sponsors: Accra, Alerus, Amcon, Cashe Software, Cretex Companies, Hoglund Bus Company, Medica and Sheila Minske.
We were proud to honor our 2018 Rise'ing Stars: Alex Blaisdell, LeeAnne Brown, Darryl Dack, Nicole Martinson, and David Schwartz. Employment Consultant Sarah Gustafson was recognized as Rise's 2018 Champion of the Mission.
In addition, we paid tribute to Rise's Community Partners of the Year: Sonja Fry, owner of the Dalles House Restaurant and Lounge, Global Health Ministries, Harvest Hills Beverage Company, and the Hennepin County Mental Health Center.
Volunteers Lauren Kozlak and Liam Moran were honored with first-time-ever Making a Difference awards.
Shown here, Dan Mattila was the live auction bid-winner of a hunting trip in New Zealand! Other photos from this year's event are posted on Rise's Facebook page: Rise, Incorporated.
Thanks to everyone who attended, supported, volunteered, donated, and sponsored our 2018 Celebrate Rise Fundraising Gala! We hope you had a great time!