MOHR awards shine a light on Rise's outstanding team members, program services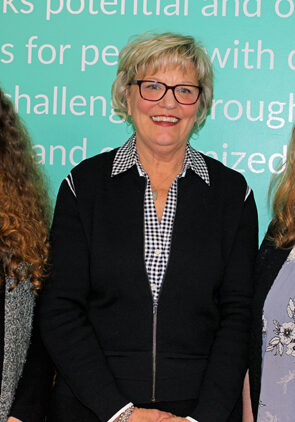 Over the years, Rise team members and the agency itself have received many accolades and awards. But we consider those bestowed upon us by our peers as among the most valued.
Rise has three terrific honorees of the 2019 MOHR (Minnesota Organization for Habilitation and Rehabilitation) awards which were presented at the annual MOHR conference on May 16 in St. Cloud.
Hearty congratulations to ~
Judy Andersen, director of Rise's five Adult Day Programs (ADP), and her outstanding team on their Life Enrichment Award which recognizes the person-centered, creative services they offer to enrich the lives of people with brain injuries, and physical and intellectual disabilities.
In developing each of the five Adult Day Programs, Rise's team opted to work with community centers and local YMCAs, including New Brighton, Mounds View, Maplewood, Fridley, and Coon Rapids, to enhance and maximize the kinds of services offered.
With flexible scheduling, people can choose to participate in a wide range of activities, including art and music therapies, cooking and nutrition, YMCA group classes and events, wellness and fitness activities, volunteer community service projects, as well as social and learning activities.
Pam Satek, a direct support professional at Rise Coon Rapids, has been named MOHR's Job Coach of the Year for the Twin Cities metro area. As noted in her nomination, Pam was recognized because she "leads with her heart, is person-centered, and believes in each and every person she serves. She also takes great pride in helping ensure that people fully understand the expectations of their employer and the job tasks they're responsible for. Pam also assists people with setting and attaining their personal and professional goals.
"Pam has a knack for developing exceptional professional relationships with the people she serves. To do this effectively, integrity, trust, and patience are required, and Pam has no shortage of these important qualities."
Rise President & CEO Lynn Noren is this year's recipient of MOHR's Tip of the Spear award recognizing her 40-plus years of extraordinary contributions to the disability field. She was honored for her tireless work to strengthen services and supports for people throughout Minnesota and beyond.
Lynn started at Rise in 1979 as a young college intern with Rise's (then) Work Activity Program; 34 years later in 2013, she assumed the position of president.
Throughout her career, Lynn has developed many innovative and customized programs which address key issues affecting men and women with disabilities, as well as refugees and immigrants, in the areas of employment, housing, and personal growth.
Lynn is an active and prominent leader both here in Minnesota and across the nation. She has served on numerous industry advisory boards and committees, taskforces, and leadership groups. She is also a sought-after presenter for a wide range of statewide and national conferences.
Thousands of people whom Rise has served, and indeed, across the country, have benefited greatly from Lynn's extraordinary experience, advocacy, and leadership.
Rise team members are so proud of our Adult Day Program team, Pam Satek, and Lynn Noren for their outstanding work and contributions to the people Rise serves. Congratulations!
This article appears in the June 2019 issue of the Rise Reporter.