Michael worked to help people know how to vote, make their voices heard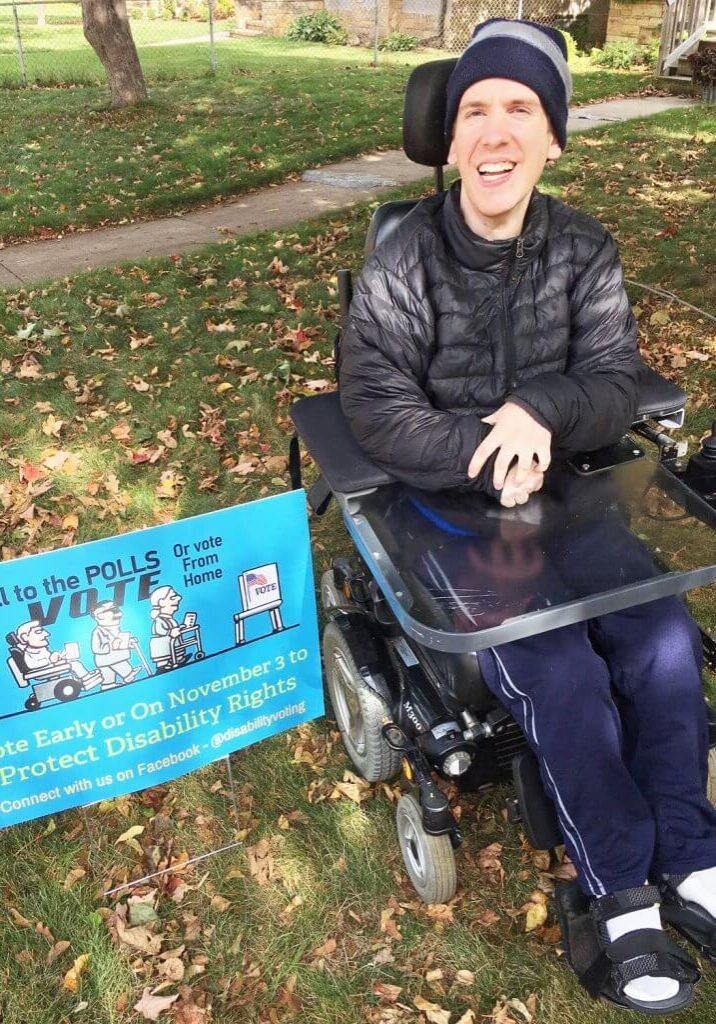 Combining his excellent writing skills with his interest in advocacy for disability-related issues, Michael Sack served as a senior volunteer consultant of voter accessibility for just over two months, September until the election in November, with Emma Greenman's campaign. She won the Minnesota State House of Representatives (63B) seat with more than 73 percent of the votes.
Michael was tasked with reaching out and connecting with people who have disabilities and other advocates to inform them the importance of voting.
He collaborated on and wrote an article about the voting process (both absentee and in-person), created, managed, and updated a Facebook page with informative posts, answered people's questions about the voting process, and did community outreach to promote disability voting and guide people to the appropriate materials.
"Michael was a supporter of Emma Greenman and wanted to volunteer for her campaign," explained Employment Consultant Sarah Gustafson, who assists Michael in his competitive job search and career development. "I reached out to the campaign, explaining Michael's obvious talents and perspective, and they were delighted to have him on board."
One of the biggest projects Michael worked on was creating Roll to the Polls– or Vote From Home – A guide to voting for people with disabilities. This step-by-step guide was a great asset for people to ensure their voices were heard on election day.
Michael also created magnets, a t-shirt design, and bought a customized yard sign to promote voting to help spread the word on the importance of voting. His uncle, who is a political cartoonist with the Minneapolis Star Tribune, created the special artwork.
"The best part of volunteering for Emma was knowing I was educating others with disabilities on how to vote," explained Michael. "I was essentially trying to get more people with impairments to cast ballots by mail or in-person."
Gail Rosenblum, who is the editor of the Inspired section at the Minneapolis Star Tribune, interviewed and wrote an article about Michael's efforts that was published on October 9, 2020.
Prior to the COVID pandemic, Michael had been working on data entry contracts and Rise administrative tasks for the past nine years at Rise Bloomington. His team appreciated his solid work ethic and attention to detail.
Currently, Michael is working part-time as a writer for Finley's Barkery whose goal is to create paid employment opportunities for people with disabilities. The maker and distributer of pet treats dedicates 50 percent of its net profits to initiatives which provide employment training, accessibility, health and wellness, and advocacy platforms for people with disabilities.
Finley's Barkery is building their social media presence and hired Michael to coordinate with their public relations team to write for their blog once a month on issues related to the disability community.
An avid sports enthusiast, Michael is also the co-creator and writer of a blog, Two Men On, which he writes with his pal, Sam Graves. Since January 2010, the two have written about the Minnesota Twins, baseball, accessibility, and other relevant areas of interest.
Sarah will continue to support  Michael in his employment journey. His goal is a career in journalism or data entry.
This article appears in the December 2020 Rise Reporter.