Michael Sack lets his 'fingers do the talking,' writing about mobility, accessibility issues — and SPORTS!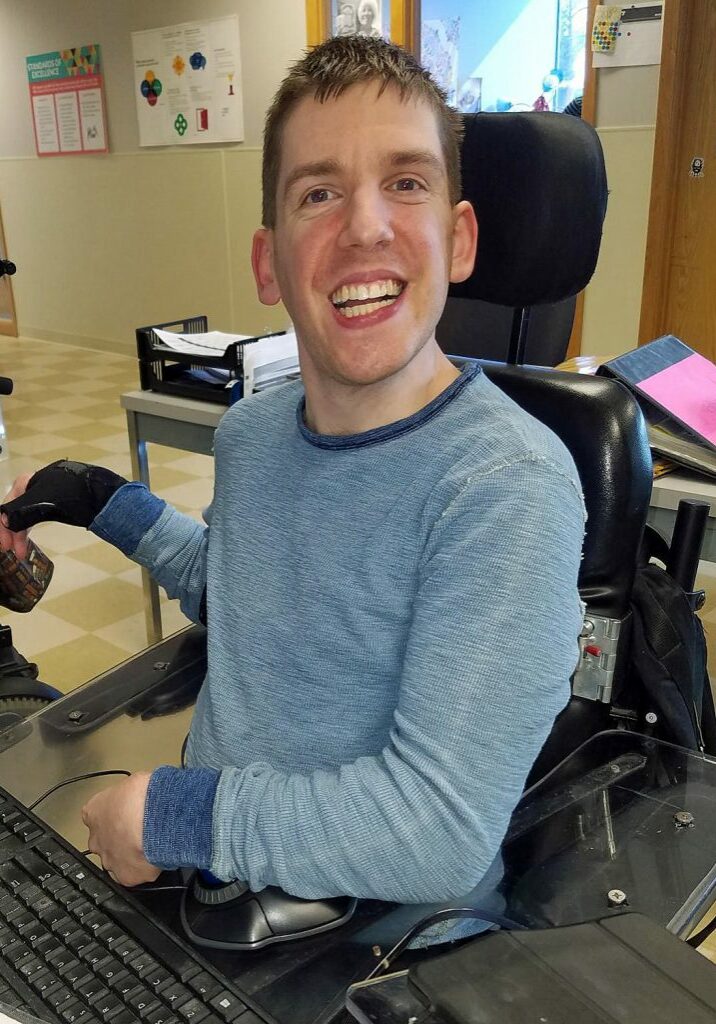 This past February, the 'Minne-SNOW-ta' metro area saw its snowiest month in history. Though some people may appreciate its white, glistening beauty, many people focus on the slick roads, lengthy commutes, and snow-covered walkways it causes.
Michael Sack knows firsthand that these sidewalks and curb cuts can become "impassable" for those who are mobility-impaired or use a wheelchair as he does. He wrote about his and others' situation in an op-ed piece published in the Minneapolis Star Tribune on December 7, 2018. It was headlined, "Minneapolis proposal to clear sidewalk snow is a game-changer"
Interest in Michael's advocating pieces quickly snowballed as the City Pages posted another submission of his. "To Minnesotans with disabilities, George H.W. Bush was a hero" hit the press on December 14, 2018. His article highlighted the Americans with Disabilities Act (ADA), signed by President Bush. Michael wrote it was "a sweeping measure that would help millions of people with various disabilities live lives free of discrimination."
Michael credits the ADA for educating the Minnesota Twins in designing Target Field. The wheelchair-friendly gates, handicapped seats, and 13 elevators are an incredible win for this Minnesota sports fan.
Michael's writing recognition does stop there. Along with his long-time friend, Sam Graves, the duo has co-authored Two Men On, a blog dedicated to sports and accessibility topics, since January 2010.
After reading their blog, Twins President Dave St. Peter invited Sam and Michael to tour the then-new Target Field. The pair came up with a three-page list of things to check out for accessibility, including doors, restrooms, elevators, seating, concession stands, and kiosks.
Their blog discussions have also addressed accessibility plans for other Twin Cities sports venues, including CHS Field in St. Paul and the US Bank Stadium in Minneapolis.
Additionally, Michael still finds time to write to his legislative representatives, continuing his passion for advocacy for himself and his peers. Michael's Rise supervisor, Jordan Reisdorph, emphasized Michael's attributes.
Michael's writing, computer skills, and strong work ethic were immediately apparent to Rise team members when he started at Rise Bloomington in 2011. His initial day-to-day data entry tasks quickly turned into updating quartiles, writing memos, taking on additional projects for managers, as well as lending a helpful hand to team members frustrated with computer issues, including Program Supervisor Piper Wohlfeil.
"He is our go-to guy around here!" Piper said. "Anything we need, Michael can do it."
"Michael is so eloquent in his writing, and his passion shines through," added Jordan. "When work is limited, he will take initiative and find new projects to tackle. He keeps us all on our toes."
Michael's appreciation for the presence of his staff is mutual.
"I look forward to seeing them every day. Rise is the place for me!"
This article appears in the June 2019 issue of the Rise Reporter.